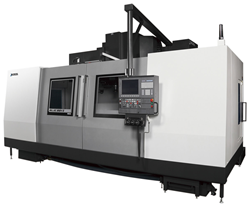 Charlotte, NC (PRWEB) October 02, 2014
Okuma's new MILLAC 852V II vertical machining center, represents the pinnacle of large machining centers with high rigidity, heavy cutting ability and high operability. The strong base column construction has optimally-placed ribs to counter chatter and twisting during heavy-duty cutting. Traditional box ways are used for all axes to provide high accuracy and rigidity over the long term.
With the use of variable speed gear head and large-diameter spindle bearings, this vertical machining center can perform heavy-duty cutting and high speed machining with high torque from low to high speeds. The X, Y, Z travels and large table designed to withstand heavy loads are well suited for machining large, heavy work pieces.
Key Features of the MILLAC 852V II Vertical Machining Center:
Max. Load Capacity kg (lb) 3,800 (8,360)
Axis Travels (X/Y/Z) mm (in) 3,050/ 850/750 (120.79/33.46/29.53)
Rapid Traverse m/min (ipm) X/Y: 12 (472), Z: 16 (630)
Spindle Speed min-1 6,000 Cat 50 Big Plus
Max. Spindle Torque Nm (lbs ft) 481/390 (355/288) 30min/cont.
For more information on Okuma's MILLAC 852V II visit http://www.okuma.com/millac-852v-ii.
About Okuma America Corporation
Okuma America Corporation is the U.S.-based sales and service affiliate of Okuma Corporation, a world leader in CNC (computer numeric control) machine tools, founded in 1898 in Nagoya, Japan. The company is the industry's only single-source provider, with the CNC machine, drive, motors, encoders, spindle and CNC control all manufactured by Okuma. Okuma's innovative and reliable technology, paired with comprehensive, localized service protection, allows users to run continuously with confidence – maximizing profitability. Along with its industry-leading distribution network (largest in the Americas), and Partners in THINC, Okuma facilitates quality, productivity and efficiency, empowering the customer and enabling competitive advantage in today's demanding manufacturing environment. For more information, visit http://www.okuma.com or follow us on Facebook or Twitter @OkumaAmerica.
About Partners in THINC
Partners in THINC is a collaboration network of more than 40 industry leaders who come together to solve problems and explore new productivity ideas for real-world manufacturers. With the open architecture, PC-based THINC®-OSP control as its nucleus, Partners in THINC brings specialized equipment, expertise and a commitment to provide the best possible integrated solutions to the end-user. For more information, visit http://www.okuma.com/partners-in-thinc.
###