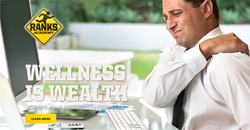 Wellness done right is perhaps the greatest asset we can have!
Dedham, MA (PRWEB) October 07, 2014
Ranks Academy is proud to announce that Adam Poock will be giving an interactive demonstration at HealthCamp Boston 2014.
Adam Poock has been an advocate for the older athlete for over 15 years developing innovative evaluations, protocols, training and tracking procedures in order to define what wellness means to the older athlete's health. As part of the HeathCamp Boston 2014, he will lead a participatory, Active Recovery Session - Fighting the Effects of Too Much Sitting with "SMALLS". Adam will demonstrate;

How sitting fosters Posture-Loss and Pain by freezing surprisingly small movement mechanisms at the hips and low back,
"SMALLS" as 30-second antidotes of strategic self-care massage reversing these freezes,
How to develop habits to protect your individual health and design a powerful, effective self wellness program for yourself.
HealthCamp Boston is an unconference that is designed to provide a creative environment to bring together diverse groups of people who otherwise might not meet at traditional health or medical events. The event will take place on Monday, November 3, 2014 at Microsoft Research New England at One Memorial Drive in Cambridge, MA. You can register for this event here.
Ranks Academy believes the challenge is obvious and pressing. We desire to stay young longer and a perfect storm of demographics and economics is upon us. We have to develop ourselves well beyond what used to be called "retirement" - 65 is Going Away. We must replace the word "senior" with term more appropriate, more powerful - The Ranks Member.