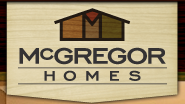 We would have been thrilled to have won a single award, so you can imagine our excitement to be presented with seven.
Edmond, OK (PRWEB) October 01, 2014
In September, McGregor Homes won seven awards after displaying two of their homes in the 2014 Parade of Homes. The event, which is hosted by the Central Oklahoma Home Builders Association, is held annually and showcases over a hundred homes in the Oklahoma City area. McGregor Homes is thrilled with the response to their work and excited to see how visitors have responded to the unique ways the construction company has contributed to the local construction industry.
This year, McGregor Homes showcased their Arroyo and Del Mar floor plans. The Arroyo design, which is 2,105 square feet, placed a high focus on beautiful and livable interior design. To accomplish this, McGregor Homes used a neutral color palette of light gray walls, white trim and cabinets, white granite, a Carrera subway tile back-splash and ebony-stained white oak floors. The home was also fitted with high quality custom lighting, from a rustic, industrial Edison-bulb chandelier in the dining room to geometric-caged gold pendant lights above the island. As a result, the Arroyo won first place for Best Decorated, second place for Best Interior Design, and Best Floor Plan for a home in the price range of $350,000-$419,999. The house sold for $350,000.
Meanwhile, the Del Mar layout featured a new style McGregor Homes has been using, called Modern Mountain style. Designed to give homes a rustic Colorado vibe, the house included wood accents and beams, richly-stained natural hardwood floors, and a wooden accent wall reclaimed from an Oklahoma barn. However, the Del Mar's defining feature was its floor plan, which is extremely open and free-flowing, as well as practical: for example, the home's two garages both lead into the kitchen, which also has access to a master closet and laundry room. Because of these qualities, the Del Mar was awarded Best Overall Home, First Place for Best Floor Plan, Second Place for Best Curb Appeal and Best Interior Design in the $490,000-$549,999 price range. This home sold for $495,000.
The team at McGregor Homes is delighted and humbled by their success at the 2014 Parade of Homes.
"We feel so honored to have received such positive feedback from the judges of the Parade of Homes," said Kelsey McGregor, the Marketing Manager for McGregor Homes. "We would have been thrilled to have won a single award, so you can imagine our excitement to be presented with seven."
McGregor Homes reports that a number of people have complimented the work their team put in to make the homes a success. A number of people have apparently been particularly impressed by the company's efforts to do something unique and different within the field of new home construction. The company says that they hope their work at the 2014 Parade of Homes will encourage interest in their new community, Cottage Grove, and also demonstrate their ability and reputation as a solid builder.
About McGregor Homes
McGregor Homes constructs unique homes that not only stand out, but feature exceptional attention to detail, design and functionality. With six home designs to choose from, clients receive a house that is both stylish and practical. To learn more, visit http://www.mcgregorhomes.net.