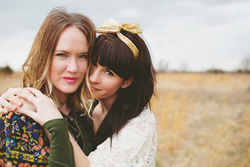 This collaboration will bring our community an all new experience with abeautifulmess.com
Bowling Green, KY (PRWEB) October 01, 2014
"A Beautiful Mess has become a one stop shop for DIY lifestyle information in many women's lives. Elsie and Emma's vast knowledge of everything homegrown has cemented their place in the online community and their fan base. This partnership will bring Elsie and Emma closer to their supporters by providing the ability to serve them like they never have before," said April Foster, CEO of Studio Calico.
A Beautiful Mess, for Elsie Larson began in 2007. Elsie created a blog that became an online resource for women interested in crafting their own life. The part time venture quickly evolved to a site where women can learn how to keep a modern, homemade lifestyle. Now a joint venture with her sister, Emma Chapman, A Beautiful Mess offers a range of articles where they share tips on cooking, decorating, crafts and a glimpse into their lives. Seen as experts of Do-It-Yourself techniques, Elsie and Emma created two award-winning apps, and released two books, both on best-sellers lists. With an audience of over one million unique views each month, the sisters have become a household name that are adored and revered as the go-to trendsetters.
Elsie Larson, owner and author at A Beautiful Mess said, "We are so excited to be able to team up with Studio Calico. This collaboration will bring our community an all new experience with A Beautiful Mess. Our blog and the ability to share the homemade lifestyle are our biggest passions in life. I am thrilled for the next step of our company and the ability to serve our customers with products we truly believe in."
Founded in 2007, Studio Calico is the industry leader in worldwide delivery of paper crafting kits. The company offers three monthly subscriptions available exclusively through its website http://www.studiocalico.com.
Elsie Larson and Emma Chapman are the co-owners and authors at abeautifulmess.com. The award winning blog and classroom site is a highly popular resource for DIY enthusiasts to learn new techniques for modern, handmade living.