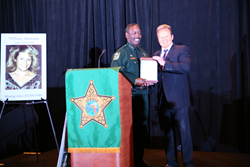 "The police can't tackle crime on their own"
Orlando, Florida (PRWEB) October 02, 2014
Law enforcement agencies, community leaders, politicians and the private sector came together on Monday in Orlando, for the 'Sheriff's 2014 Community Crime Summit' under the leadership of Orange County Sheriff Jerry Demings.
Now into its 5th year, presenters shared information on crime trends and discussed relevant issues concerning police community relations. These included: human trafficking, missing and exploited children, and drug education.
To date, crime in Orange County has declined overall by 2.6 percent when compared with the same period in 2013, although there has been a 'significant increase' in homicides and robberies resulting in a Violent Crime Index of 9 percent.
"The increase in homicides and violent crime is being driven by drug trafficking," said Demings. "[And] in order to prevent homicides we need to change the mindset of individuals where they make appropriate choices. That's a community issue, not a law enforcement issue."
Demings said the most effective way to reduce and halt violent crimes is by engaging all stakeholders in the effort.
"Engaging and collaborating with the community will lead to a reversal in the number of violent crimes," he said. "And as a result, we can change the numbers and make our community safer."
Attorney Dan Newlin of the Law Offices of Dan Newlin, who is also an Orange County Reserve Deputy Sheriff, has supported the annual crime summit from its inception. Having served as a police officer for 10 years, he has gained valuable insight into the role neighborhoods can and do play in helping to prevent crime.
"The police can't tackle crime on their own," said Newlin. "And the crime summit, which brings together community associations, other government agencies, social service and religious organizations, provides a great opportunity for everyone to be inspired about their respective roles in helping to reduce and defeat crime."
Newlin, who maintains a very active schedule through volunteering as a Reserve Deputy, was recognized for his commitment to providing financial support to the crime summit over the past five years.
"I am very humbled to receive this plaque, as it is an honor for me to support the crime summit," he said, upon accepting the award from Sheriff Demings.
In discussing human trafficking, missing and exploited children and drug education, the role of local social service organizations to help and service victims so they can begin the process of restoring their lives, was underscored. To this end, it was agreed that inadequate social services remain a major challenge in Orange County.
"My hope is that you are all inspired with the information and knowledge gained here today," Demings said. "That's the purpose of the Crime Summit – to provide us with an opportunity to re-examine what each of us can do to raise better human beings for the advancement of our communities and the betterment of society."
For more information about the Law Offices of Dan Newlin call direct, 407-888-8000 (Central Florida) or 312-888-8000 (Chicago) or visit http://www.newlinlaw.com or http://www.newlinlaw.com/Chicago