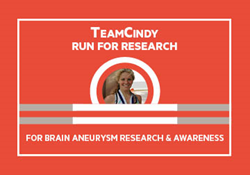 TeamCindy honors the life of Cynthia Lynn Sherwin and promotes widespread public awareness of the dangers of a ruptured brain aneurysm– the sudden and silent killer that took her life and the lives of thousands of others each year.
Hanover, MA (PRWEB) October 02, 2014
Runners and walkers from all walks of life are expected to converge on Riverside Park this month for one very important reason: Create greater awareness of the signs and symptoms of brain aneurysms and raise money to support critical research and find an inexpensive mechanism to easily detect them.
And your presence is needed. Join TeamCindy in its second TeamCindy 5K Run for Research. Runners and walkers of all skill levels are welcome and encouraged to participate. All proceeds raised by this event go directly to the world renowned Brain Aneurysm Foundation.
"Cindy was just 33 and the picture of health and beauty," noted Cindy's mother, Elaine Schaller the creator and organizer of TeamCindy and the 5K for Research. "But just like that she was gone—after suffering a ruptured aneurysm while training for her first Ironman."
That was 8 years ago. Since that time, Schaffer has made it her life's mission to not only raise money but to increase everyone's awareness of the signs and symptoms of brain aneurysms in order for lives to be saved. Thus TeamCindy was born.
The TeamCindy 5K Run for Research is scheduled to take place in Riverside Park (103rd Street and Riverside Drive) in New York City on Saturday, October 18th. Participants can pick up their race day packets as well as register beginning at 8:00am. The 5K Run/Walk kicks off right at 10:00 am. If you Pre-register by October 6th your entrance fee is only $35 and you receive a complimentary T-shirt.
Please join TeamCindy and honor Cindy's life while raising awareness of this devastating disease, and saving future lives. For more information contact TeamCindy at Info@TeamCindy.org.
To register online or donate, please visit the TeamCindy 5K Run for Research website.
Now celebrating 20 years of service, the Brain Aneurysm Foundation was established in 1994 in Boston, Massachusetts with a mission to promote early detection of brain aneurysms by providing knowledge and raising awareness of the signs, symptoms and risk factors; work with the medical communities to provide support networks for patients and families; as well as to further research that will improve patient outcomes and save lives. For more information about the Brain Aneurysm Foundation, visit http://www.bafound.org.