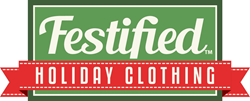 Ashburn, VA (PRWEB) October 01, 2014
Let it be known that Festified supports cleavage! October is Breast Cancer Awareness Month, and in honor of the more then 200 thousand women who will be diagnosed in 2014, Festified is offering a Breast Cancer Sweater. For every sweater sold, five dollars will be donated to the National Breast Cancer Research Foundation.
"One in every eight women will have breast cancer," said John Kaplar, Festified's Founder. "It is our hope that Festified customers will wear the Breast Cancer Sweater, and take pride in knowing that they — and we — have done their part to help fight this terrible disease."
A faux-cleavage design sends October's message in style: "Festified supports cleavage, and so do I." The sweater is black with pink and white trim, and its cuffs are adorned with awareness ribbons.
For more information about Festified, the Breast Cancer Sweater, or the company's contribution to the National Breast Cancer Research Foundation, visit http://www.festified.com.
About the National Breast Cancer Research Foundation
Evelyn H. Lauder founded the National Breast Cancer Research Foundation (BCRF), a nonprofit organization to which five dollars of every sweater sold will go, in 1993. The BCRF is committed to achieving prevention and a cure for breast cancer. Having invested more than half a billion dollars in research since its inception, the Foundation provides critical funding for cancer research worldwide to fuel advances in tumor biology, genetics, prevention, treatment, metastasis, and survivorship.
About Festified
Festified, formerly named 'Skedouche', was founded by John Kaplar in 2009 after many disappointing Christmases where, since all the major retailers failed to carry "festive" sweaters for men, he was forced to wear ill-fitting ladies sweaters. John designed the first tacky sweater collection that summer and built the company from the ground up. The website opened in November 2009 with an overwhelming response from customers and the media. Since then, Festified has grown considerably, and sell thousands of products every year. The retailer is committed to providing excellent customer service, as well as a high quality and enjoyable shopping experience. Festified has been featured on Late Night with Jimmy Fallon, The Tonight Show, The View, The Chew, and Community.