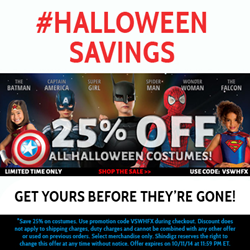 Halloween Costumes at Low Prices for a Limited Time!
South Whitley, Indiana (PRWEB) October 01, 2014
Still haven't decided on what to be for Halloween this year? The good news is that it's not too late to get a great costume at a low price. The party store Shindigz, now offers great costumes at an extra 25% off for a limited time only.
Great costumes for kids this year include Elsa, Anna and Olaf from Disney's Frozen, the Teenage Mutant Ninja Turtles and all Super Heroes. Find them all at Shindigz.com! Just use the promo code VSWHFX at checkout to receive the discount.
Halloween is on a Friday this year, which means it's a great day to throw a party. Shindigz has select Halloween decorations available for up to 50% off right now. Don't miss out on an opportunity to get friends and family together for a party. Shindigz has some great kits for sprucing up a party. Some NEW kits include the Creepy Fun House and Dying to Party.
Trick or Treaters will love personalized candy. Be the cool house in the neighborhood with personalized chocolate lollipops, candy bars, gum or mint tins. Shindigz offers free personalization on some great Halloween treats.
Shindigz.com makes life more fun with free personalization. Party supplies will be shipped directly from South Whitley, Indiana on the next business day after ordering. With more than 36,000 products, the perfect party supplies will be found. Shindigz, a family-owned company, provides customers with completely personalized gifts created easily and are affordable. Plus, products now ship directly the very next day. Orders placed by midnight ET for most personalized and made-to-order items will ship the next business day, excluding holidays and weekends.