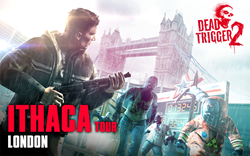 Brno, Czech republic (PRWEB) October 03, 2014
MADFINGER Games has revealed the shocking storyline of the ITHACA Tour from the world of the award-winning game, Dead Trigger 2.
ITHACA Tour starts on Friday, October 3.
Areas of unrest around Moscow have fallen into unexpected lethargy. With the exception of a few isolated incidents, the massive onslaught of the zombie hordes has suddenly halted, resulting in utter tranquility throughout the region. Resistance Operative and Tactical Command from London believe we are experiencing the proverbial calm before the storm.
In response to these developments, Command in London is preparing a series of exercises for all Resistance units. The main priority of the exercises remain focused on Arena battles within the key cities controlled by Resistance.
Meanwhile reconnaissance units are reporting the irregular occurrence of paranormal incidents from within smaller groups of zombies in the Moscow area. It is widely expected that the epicenter of new unrest will erupt here. Laboratories in Prague have performed extensive studies on the last samples of zombie tissue from the Moscow area in an effort to comprehend the changes to come in zombie tactical attacks.
Recent analysis from the Toxic Wasteland center of Berlin is in agreement on the fact that the majority of recent success on the battlefield is attributable to the massive deployment of the ITHACA shotgun.
In coordination with this finding, Resistance Command is launching the ITHACA Tour with the first tournament in London showcasing the most combat-proven weapon, the ITHACA shotgun. The tournament gets underway this coming Friday.
Upcoming tournaments are planned each additional week in Paris, Berlin and Prague. The toughest test of courage and combat readiness will conclude in Moscow, where the best of the best will do battle.
MADFINGER Games brings together a team of heavily experienced console game developers with a shared goal of creating console-quality games for iOS and Android mobile devices as well as the Facebook platform. This includes a key emphasis on next-gen graphics and offering mobile gamers a visually stunning gaming experience. Their third-person shooter Shadowgun received outstanding reviews and high ratings, reaching the position of number one game in 25 countries and has been included in "App Store Rewind 2011" and the Apple "Hall of Fame." Last year's hit, the first-person shooter Dead Trigger 2, has recently reached 27M downloads.
Check out the ITHACA Tour video: http://bit.ly/ithaca_video
Download ITHACA Tour screenshots here: http://bit.ly/ithaca_screens
ITHACA Tour website: http://bit.ly/dt2_ithaca