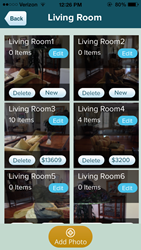 Not being able to remember all that was lost is the number one reason cited on insurance sites for under estimated homeowner's claims. ListStuffFast makes a photo-documentation of one's home possible in 20 minutes or less for the typical home.
Los Angeles, CA (PRWEB) October 14, 2014
ListStuffFast, the new home inventory, moving, estate and divorce division tool is now available in the App Store. It takes a different approach to home inventory listing needs, "keeping it simple and fast to complete so one might actually use it", founder David MacMahan says. In addition other useful functionality is built in to make it useful for estate planning, moving, downsizing, etc.
David MacMahan, founder of DivvyMaster.com, the developer of ListStuffFast says he was a guest speaker at an estate planning seminar with around one hundred home owners in the audience last year. At that event he asked to see a show of hands of those who have a current home inventory? Only one hand raised.
He then asked: "Given that we live in fire and earthquake prone areas, how many of you have thought about or wished you had a home inventory?" He says pretty much all hands were raised then. In follow on discussions, some homeowners indicated they had started a home inventory, but found it too overwhelming and time consuming to get very far, so they never finished.
That's when MacMahan tested several available apps and found that they were designed to create a "perfect world wish list" of information for insurance companies. After researching, he found all those very specific and hard to find details on each item were not actually required by insurance companies to file a claim. Most of those insurance sites actually noted that the main problem for consumers filing claims for less than the losses were usually due to the inability to remember all that was lost. He wondered if there wasn't a way to make a home inventory so simple it would seem silly not to have it, and set out to make it.
The key, MacMahan says, ended up being shifting to creating a photo inventory room by room, rather than an item by item approach. The specific item and item details can be added "when or if" ever needed, and to the level actually needed. Taking photos of the rooms and any documents laid out together so the reference information is available when needed is the approach. For some uses, like divorce asset listings, heir distributions, downsizing, moving or probate asset listings, much less detail is typically needed. A unique photo tagging system allows multiple items to be detailed within each room photo.
Soon the fast inventory methods of ListStuffFast will be able to be uploaded to DivvyMaster.com to access additional services, including assisted identifying and listing, online appraisals and access to the newly patented DivvyMaster online division tools for estates, divorces and downsizing.
DivvyMaster.com was founded in 2011 by MacMahan to create innovative solutions to find and create online solutions to the practical and emotional challenges of death, divorce and downsizing. A U.S. software patent was issued to DivvyMaster in August of this year. The new DivvyMaster online division solutions are expected to be available in early 2015.