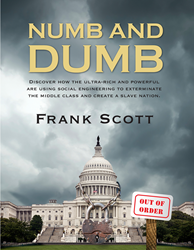 Fight back or follow the sleep to slaughter!
(PRWEB) October 08, 2014
Frank Scott, author of controversial new book, "Numb and Dumb", warns Americans that the fall of the U.S. is not a possibility, but a planned event. Numb and Dumb answers the question nagging most Americans. Why does everything seem to be falling apart?
The book reveals how discoveries made by the American Air Force stationed in England during WWII are being used by the wealthy and powerful to control U.S. citizens. Discover how ebola, ISIS, immigration, healthcare, and racism are used as distractions. Civil/Class War on U.S. Soil will soon become reality.
Numb and Dumb, reveals what you see, hear, feel and think are intentionally designed perceptions. Everything around you is smoke and mirrors... not reality. This book explores how events are created to distract citizens, create a sense of helplessness, promote apathy, etc. The ultimate objective... increased government control of income and tax dollars. The general public has become the walking dead with an advertising logo on their shirt.
Using real life current examples, readers will discover how those in power promote racism to create non-unity, dumb down our educational system to prevent upward mobility, provide government entitlements to create dependency, reduce American security by depleting military superiority, with the ultimate objective of creating a slave nation.
Readers will recognize how small controversies, like the Washington Redskins name controversy are intentionally used to distract Americans from the real ticking bomb… exploding debt. Debt created by puppets of the powerful, masking themselves as representatives of the people.
Numb and Dumb predicts when the financial bomb explodes; the United States will become a slave nation overnight. Rich and poor… with no middle class. No upward mobility. Just say, "Welcome to Wal-Mart", or even more predictable, "Welcome to Alibaba". This frightening reality will create both civil and class warfare, evidenced by recent riots and the picket lines motivated by income inequality.
Discover how controls implemented from early childhood might eventually require national legalization of euthanasia to allow seniors a respectable exit strategy.
Frank Scott challenges the myth that the U.S. is still a global leader and details the frightening speed at which the U.S. is collapsing from the inside. In the closing chapters, just when you take those last gasps of freedom, the author provides a life jacket and call to action. Fight back or follow the sheep to slaughter.
Frank Scott, author and serial entrepreneur has a passion for America. The research and writing of Numb and Dumb was a one year act of patriotism. Scott says, "I believe if armed with the right information and solutions, we can save America. But the threat is real and the time to act is now!"
The eBook is directly available at the author's website http://www.numbanddumb.com or can be purchased at Amazon.com. Retail Price $7.95
For more information on Numb and Dumb or to schedule an interview or media appearance with the author, please contact fscott@NumbandDumb.com or call (512) 650-2524