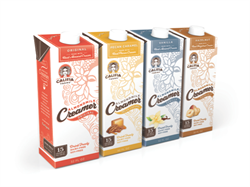 Because we use real nut creams in our recipe, our Creamers deliver on function, taste, health, and overall experience.
Bakersfield, Calif. (PRWEB) October 01, 2014
As more and more Americans turn to Almondmilk and away from dairy and soy, there is a noticeable shift towards incorporating alternative dairy into a favorite American pastime: coffee drinking. Natural Products coffee drink category leader Califia Farms has taken its award-winning Almondmilk and applied it as its base in formulating the perfect coffee complement: a rich, slightly sweet creamer made from real almond cream. The California Company is known for making the best tasting Almondmilk, and their dairy-free creamer is made from wholesome ingredients, instead of the unhealthy oils and artificial chemicals that are packed into the conventional brands. Califia Coffee Creamers are the ultimate upgrade to a category that has so far ignored healthy features. Califia Creamers are GMO-free, dairy-free, soy-free, oil-free and gluten-free. Launching regionally at VONS, Gelson's, Bristol Farms, and Sprouts stores, as well as in Whole Foods Markets in Texas, Califia's Almondmilk Creamers will provide a solution to millions of mindful consumers, tired of compromising the integrity of their health and in need of a creamer that honors their daily coffee. The Creamers will go into national distribution at Whole Foods Markets in January.
The 32 oz. Califia Creamer Tetrapak package stands out against the sea of conventional creamers in the dairy aisle. The brand's Califia goddess logo forms a swirling outline of the iconic Califia Farms bottle, bringing both current non-dairy creamer users and dairy creamer users to the category. Through innovating with real nut creams for texture and taste, Califia's Creamers blend easily into coffee. Clocking in at only 15 calories per serving, Califia Creamers are less sweet than the competition, allowing the flavor of the coffee to shine. "Creamers are hot right now, for good reason," said Greg Steltenpohl, CEO, Califia Farms. "Coffee is part of most American's day… every day. But there hasn't been a good enough alternative to either full cream or the leading artificial non-dairy creamers out there until now. Because we use real nut creams in our recipe, our Creamers deliver on function, taste, health, and overall experience. We want you to savor every cup of Joe or Jane; we're putting a stop to creamers that disrespect the bean by staying true to our Almondmilk's natural compatibility."
The reason Califia Creamer stands out against the competition is the Company's proprietary Almondmilk recipe, starting with raw almonds, ground to a fine meal and then made into a milk.
This innovative process results in a cleaner taste profile than the traditional commercial approach of using roasted almond paste to make almond milk. Califia Creamers are in the refrigerated section with other non-dairy creamers, and they will be available nationwide in January.