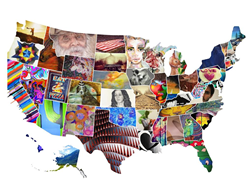 Art Set Free was designed to engage the global arts community and spread awareness about the importance of public art. We are thrilled that artists from over 900 cities have set their art free and encourage artists throughout the world to participate
New York, NY (PRWEB) October 02, 2014
Arts Brookfield, the cultural arm of Brookfield Property Partners acclaimed for presenting hundreds of exciting cultural experiences for free worldwide, announces recent dramatic growth of Art Set Free, the organization's unprecedented global arts showcase that raises awareness about the importance of free public art. In the past month, Art Set Free, the user-generated campaign that will run through the end of the year, now includes artists from more than 900 international cities, 110 countries and six continents.
Recent Art Set Free highlights include:

The Art Set Free digital art collection currently includes 23,213 artworks from more than 3,000 artists worldwide.
Participation in Art Set Free has expanded to 110 countries in 905 cities with submissions from all 50 U.S. states.
Top locations submitting art include New York, Los Angeles, Houston, Toronto, Perth and London.
Best of Art Set Free Edition 6, a curated selection of the most thought-provoking recent artwork submitted from international artists, is now on view at Brookfield properties in New York, Los Angeles, Houston and Toronto.
"Art Set Free was designed to engage the global arts community and spread awareness about the importance of public art. We are thrilled that artists from over 900 cities have set their art free and encourage artists throughout the world to participate," said Debra Simon, Vice President and Artistic Director of Arts Brookfield. "We look forward to seeing more amazing art from around the world."
Among the thousands of unique and inspiring artists from across the globe who have set their art free by sharing their work on Facebook, Twitter and/or Instagram with the hashtag #artsetfree are:

Established artists who assisted in launching Art Set Free include Broadway star and Tony Award winner Brian Stokes Mitchell; Executive Artistic Director of New York Live Arts and Tony Award winner Bill T. Jones; Action Architect Elizabeth Streb; and the acclaimed vocal ensemble, The Tenors.
To participate in Art Set Free, artists are invited to capture their work in a photo, video or audio recording; and then share it on Facebook, Twitter and/or Instagram with the hashtag #ArtSetFree. Entries will be accepted through the end of December 2014 and are welcome from any genre, including dance/movement, music/sound, painting, sculpture, photography and street art. Arts Brookfield reviews submissions on a rolling basis and curates the best pieces for display at select Brookfield buildings around the world and on ArtsBrookfield25.com, potentially reaching an audience of millions.
Images, videos and sound recordings of artwork for Art Set Free may be submitted by individuals or organizations. Submissions should be creative, innovative and inspiring, and all entries must follow the Art Set Free Terms and Conditions available at ArtsBrookfield25.com.
To learn more about Arts Brookfield and Art Set Free, visit http://www.artsbrookfield25.com.
About Arts Brookfield
Arts Brookfield presents exciting, world-class cultural experiences to hundreds of thousands of people for free each year in both indoor and outdoor public spaces at Brookfield's premier office properties in New York, Los Angeles, Denver, Houston, Toronto, Perth and Sydney. From concerts, theater and dance to film screenings and art exhibitions, Arts Brookfield brings public spaces to life through art. Through December 2014, Arts Brookfield celebrates its 25th Anniversary through an interactive initiative, Art Set Free. The public is invited to submit original artworks of all kinds for digital display at Brookfield's office properties around the globe and on http://www.ArtsBrookfield25.com. Americans for the Arts has named Brookfield one of the ten Best Businesses Partnering with the Arts in America.
About Brookfield
Brookfield Property Partners (NYSE: BPY; TSX: BPY.UN) is a global commercial property company that owns, operates and invests in best-in-class office, retail, industrial, multifamily and hotel assets. Brookfield Office Properties - a division of Brookfield Property Partners - owns, develops and manages premier office properties in the United States, Canada, Australia and the United Kingdom. Its portfolio is comprised of interests in 113 properties totaling 88 million square feet in the downtown cores of New York, Washington, D.C., Houston, Los Angeles, Toronto, Calgary, Ottawa, London, Sydney, Melbourne and Perth, making Brookfield the global leader in the ownership and management of office assets. Landmark properties include Brookfield Places in Manhattan, Toronto and Perth, Bank of America Plaza in Los Angeles, Bankers Hall in Calgary and Darling Park in Sydney. For more information, visit http://www.brookfield.com