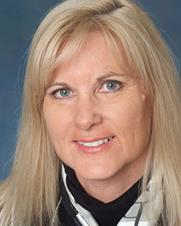 "BHG Rand Realty and RCS have an innovative and dedicated team of professionals working tirelessly to raise the bar on a daily basis."
(PRWEB) October 01, 2014
Donna Licata has just joined the Closter/Alpine office of Better Homes and Gardens Rand Realty, and is also acting as a hybrid agent working with Rand Commercial Services in New York.
"In my 25-plus years in the real estate industry, I have always admired the Rands and what they represent to real estate," said Licata.  "BHG Rand Realty and RCS have an innovative and dedicated team of professionals working tirelessly to raise the bar on a daily basis.  I am proud to have joined these companies, and I look forward to a very successful relationship with the Rand teams."
Real estate was a common profession in Donna's family, and they worked throughout Rockland County from the 1960s to 1990s. Her family's last project was a commercial project, which was the Spook Rock Industrial Park. Donna became a licensed salesperson in the late '80s in order to sell the industrial space, and has been in real estate ever since. Donna moved to Bergen County, NJ in 1993 and built a strong knowledge of the area's residential and commercial markets. She soon became a broker in both NY and NJ and opened her own firm.
About Better Homes and Gardens Rand Realty
Better Homes and Gardens Real Estate - Rand Realty, founded in 1984, is the No. 1 real estate brokerage in the Greater Hudson Valley with over 25 offices serving Westchester, Rockland, Orange, Putnam and Dutchess counties in New York and Bergen and Passaic counties in New Jersey.
Rand has more than 800 residential real estate sales associates, as well as a commercial real estate company (Rand Commercial Services), and the Hudson United Group providing residential mortgage lending, title services, and commercial and residential insurance.
The companies can be found on the Internet at: http://www.randrealty.com, http://www.randcommercial.com, and http://www.hudsonunited.com. Rand Realty is also on Facebook and Twitter.
About Rand Commercial Services
Having over 30 years of experience in our region, Rand Commercial Services has grown into a full-service real estate financial institution with expertise in commercial real estate, multi-family residential housing, development marketing, land sale and development, condo conversion, and corporate relocation.
Our brokers are focused on guaranteeing that you achieve the maximum return from your commercial real estate investment.
The passion and professionalism of our team brings a unique perspective to every transaction. Rand Commercial Services evaluates your commercial property from every angle, ensuring that we identify the best method for tapping into its fullest potential. This approach promises that your property is marketed to the widest possible audience and receives the attention of more interested buyers.