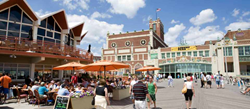 Allenhurst, NJ (PRWEB) October 01, 2014
Introducing the new and improved Asbury Park! A growing number of eateries and entertainment venues have opened their doors in the Jersey Shore town. Known for their elegant dining, exciting nightlife and boardwalk fun, Asbury Park, New Jersey has become the prime location for new restaurants and businesses.
Many business owners have taken an interest to the city, opening establishments in the downtown area, while existing businesses have undergone major renovations. New entries in the marketplace include recently opened American eatery, Prohibition, located on Cookman Avenue and a yet named chowder house expected to make its debut on Cookman Avenue next year. Changes are underway at Cookman Avenue's Casa di Dolci now offering artisan cheeses, tapas, desserts and wine; Japanese restaurant Taka, located on Mattison Avenue, is moving to Cookman Avenue and remodeling.
Asbury Park's entertainment scene is thriving with the addition of House of Independence, offering space for live performances, fundraisers and weddings. The venue is slated to open late Fall on Cookman Avenue. Also Asbury Festhalle & Biergarten is coming to Lake Avenue next month featuring delicious seafood, live music and outdoor, rooftop seating.
For more information on Asbury Park's new restaurants and businesses, visit NJ.com at http://www.nj.com/monmouth/index.ssf/2014/09/new_restaurants_businesses_moving_into_downtown_asbury_park.html.
About Bielat Santore & Company
Bielat Santore & Company is an established commercial real estate firm. The company's expertise lies chiefly within the restaurant and hospitality industry, specializing in the sale of restaurants and other food and beverage real estate businesses. Since 1978, the principals of Bielat Santore & Company, Barry Bielat and Richard Santore, have sold more restaurants and similar type properties in New Jersey than any other real estate company. Furthermore, the firm has secured in excess of $500,000,000 in financing to facilitate these transactions. Visit the company's website, http://www.123bsc.com for the latest in new listings, property searches, available land, market data, financing trends, RSS feeds, press releases and more.