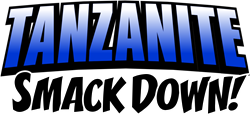 Tanzanite Smackdowns are by far one of our most exciting events.
AUSTIN, Texas (PRWEB) October 02, 2014
The Liquidation Channel (LC) is excited to announce the return of the Tanzanite Smackdown, starting Saturday, October 4 at 12:00 a.m. CT. This 24-hour event will feature incredible deals and unbelievable prices on the rare and exotic tanzanite gemstone.
As the number one sightholder of TanzaniteOne, the LC has the ability to bring you the highest quality stones at the lowest prices. And further setting them apart from other retailers, LC is the only company that can do it for 24 hours.
LC President Gerald Tempton says, "Tanzanite Smackdowns are by far one of our most exciting events. We have a great time showcasing this beautiful gemstone and our customers know they are getting the best deals. This Smackdown will feature brand new designs and styles that you will not want to miss."
Tanzanite has become one of the most intriguing and desirable gemstones of modern times. It is found in only one place on Earth, in the deep foothills of Mount Kilimanjaro in Tanzania. Although tanzanite was formed over 585 million years ago, it was only discovered 40 years ago. Due to its single source and limited supply, tanzanite is at least one thousand times rarer than diamonds.
The Tanzanite Smackdown will also feature special guest appearances from some of your favorite LC team members who will be bringing big offers and deals of their own.
For more information on updates and specials, stay tuned to http://www.liquidationchannel.com/ or http://www.facebook.com/shoplctv.
For More Information Contact:
Carolina Sandoval
Marketing Specialist
512- 901-0621
carolina.sandoval(at)liquidationchannel(dot)com
About Liquidation Channel: Liquidation Channel (http://www.liquidationchannel.com) is a global leader in direct sales of colored stones, diamonds, precious metals, and a variety of luxury goods and innovative products. Through a precisely and fully integrated system, the Liquidation Channel specializes in delivering Exceptional Quality, Exquisite Designs, and Outstanding Value, while providing a low-price guarantee on each of its products. The channel's unique jewelry is available online at LiquidationChannel.com and on DirecTV Channel 75 and 226, Dish Network Channel 274, Verizon FIOS Channel 159, ROKU, AT&T U-Verse 399 and 1399 (HD), and local cable channels.