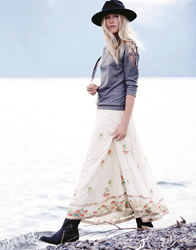 We are excited to be a part of Avalon on opening day. The mixed-use development brings a new component to the community and I am honored that Free People will be a part of its thriving success and culture.
(PRWEB) October 02, 2014
Specialty fashion brand, Free People, will bring its eclectic apparel to Alpharetta's newly constructed mixed-use development, Avalon, on October 30th, 2014. At 2,400 square-feet, Free People is thrilled to open its third store in the Atlanta area. Currently, Free People operates boutiques at Lenox Square Mall and White Provision. This will be the brand's 101st store across the United States and Canada.
As the shopping center opens at 10am on October 30th, Free People will celebrate with gifts to the first 50 guests, refreshments, styling sessions, and a weekend-long raffle to win a $100 Free People gift card.
"We are excited to be a part of Avalon on opening day," says Free People Director of Retail, Beth Wehagen. "The mixed-use development brings a new component to the community and I am honored that Free People will be a part of its thriving success and culture."
Free People's Alpharetta boutique will open ready for the holiday season. The sales floor will be well-stocked with cozy and fairisle winter items perfect to pick up for you or as a gift for a loved one. A winter white capsule will sparkle with beautiful skirts, dresses, sweaters, and knits. True holiday party pieces – focusing on dresses, accessories, and outfitting filled with embellishment, sparkle, texture, and an ethnic twist – will fill the remaining sales floor. Unique gift items, apparel, and accessories will continue to flow in throughout the holiday season. Year-round, the brand's coveted Intimately Free People line of bras, undies, slips, seamless layering pieces, and loungewear will have a dedicated space within the boutique to round out the assortment.
The space has been designed to feel like the Free People girl's workshop with rugged elements and natural details throughout. Guests are welcomed by a white plaster storefront with white bricks at the base and a custom steel entry. Inside, the space is delineated with a varied ceiling that changes in height and material throughout, including hemlock beams and wide wooden planks. Yarn-filled cubbies light up the space behind checkout with a bright array of color.
Each Free People store offers personalized shopping experiences from a team of expert stylists. Customers can schedule a one-on-one appointment with their favorite stylist, as well as interact and gain inspiration through the brand's online Style Community, FP Me. In addition to offering personal styling, fans can look forward to a variety of in-store events to be hosted at the Free People Alpharetta boutique throughout the year.
Free People will be located at 2800 Old Milton Parkway, #3060 Avalon, Alpharetta, GA 30009. Store hours will run Monday-Saturday 10am-9pm, and Sunday 11am-7pm. Fans should "like" the store on Facebook to stay up-to-date on all of the latest arrivals, events, and other happenings: https://www.facebook.com/pages/Free-People-Alpharetta/736898893030847.
For more information, images, to request an interview, or to discuss a TV opportunity, please call Naomi Huober at 215-454-5808 or email nhuober(at)freepeople(dot)com.
# # #
About Free People
Free People is a specialty clothing brand featuring the latest trends and vintage collections for women who live free through fashion, art, music, and travel. The eclectic look consists of quality apparel, shoes, and accessories that invoke attributes of femininity, spirit, and creativity with its design. Free People is distributed globally via direct channels including the Free People Global site, the Free People UK site, and the Free People China site as well as specialty boutiques, top department stores, and the brand's free standing retail locations in the U.S. and Canada.
About Avalon
Avalon is a new experience in the timeless art of living well. In the heart of Alpharetta, this sustainably designed, 86-acre development with more than 500,000 square feet of retail, a 12-screen all premium theater, planned conference center and full-service hotel, Class A office, single-family residences and luxury rental homes infuses resort-level hospitality throughout a walkable, seamlessly connected community of shopping, dining, entertainment, living and working. It's more than just another place to go, it's a place to be — a hub of local art and activity that delivers the luxury of the modern South. At 2.4 million square feet and more than $600 million, Avalon is one of the largest projects currently underway in the United States. You can find more updates on Avalon at its website, Facebook page, Instagram or Twitter profile.