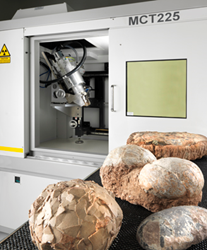 Cincinnati, Ohio (PRWEB) October 03, 2014
3D Engineering Solutions becomes the first company in the world to offer certified ISO 17025 accredited industrial CT scanning services, on its new Nikon MCT225 scanning system.
The new Metrology-CT (MCT) system guarantees that all internal and external geometry is measured efficiently. A proprietary liquid cooled micro-focus reflection source and air-cooled cabinet provide long-term stability and enable the MCT225 to achieve an impressive accuracy specification. It offers superior measuring accuracy and small feature detection to inspect precision plastic parts, small castings and complex parts and assemblies.
The MCT225 offers absolute worst case accuracy of 9μm + L/50, and 2μm feature detectability. This guarantees measurement accuracy without time-consuming comparative scans or reference measurements. Samples are simply placed on a rotary table inside the enclosure and measured. The CT system is pre-calibrated using accuracy standards traceable to the UK's National Measurement Institute (NPL) and verified using VDI/VDE 2630 guidelines for computed tomography in dimensional measurement.
The MCT255 is an invaluable asset for manufacturers seeking to benefit from reduced lead times and inspection cycles. The powerful X-ray source and large capacity manipulator combine with high magnification and small feature detection to create a solution suited to a wide variety of applications.
Plastic injection-mold and metal die-cast manufacturers can significantly reduce correction cycles during tool development and production start-up, accelerating time to market for new products. All shrinkage, deformation and dimensional errors (both internal and external) are clearly identified in easy to understand inspection reports making it easier to define corrective actions.
Emerging production techniques like additive manufacturing now make it possible to produce small and highly complex components that can't be inspected using touch probes or optical sensors. The MCT225 makes it possible to measure and analyze these components in a single non-destructive testing operation.
About 3D Engineering Solutions:
3D Engineering Solutions is registered with the State of Ohio for Professional Engineering and is ISO 17025 certified for third party inspection and industrial CT scanning services. The company maintains a state-of-the-art, climate controlled metrology lab, servicing OEM needs for FAI / PPAP inspection and more, including an industrial CT scanning lab, 3D laser scanning, data collection, 3D CAD modeling, reverse engineering, and long range laser scanning for BIM services. Customers rely on 3D Engineering Solutions to design process tooling and fixtures for the automotive, industrial, green energy, nuclear and aerospace industries, using engineering tools such as Siemens advanced NX8.5 Mach 3 CAD platform. Leading edge point cloud software, InnovMetric PolyWorks, allows a common software platform for collecting data across all of Faro laser-based data collection platforms. 3D Engineering Solutions brings more than 100 years of collective experience to every engineering project. For more information about long range laser scanning, or for general information about 3D Engineering Solutions, call 513-771-7710 or visit the company's website: http://www.3D-engineering.net.