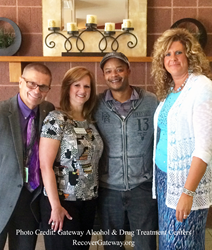 "Bridges made it clear that he truly understands recovery is not a one-man show but rather an ensemble with a strong, supporting cast," says Kerry Henry, Executive Director, Gateway Alcohol & Drug Treatment Springfield
Chicago, IL (PRWEB) October 03, 2014
Approximately 100 adults and teens confronting their own issues with addiction and substance abuse at Gateway Alcohol & Drug Treatment in Springfield filed into the center's dining room last week to hear from a very special guest, "Diff'rent Strokes" star Todd Bridges. Eager to give back to others in recovery from addiction, Bridges set aside time in his busy schedule on Friday, Sept. 18, 2014, while in Springfield performing standup at a local comedy club.
With 21 years of sobriety, the 49-year old actor spreads his message of hope to thousands each year through speaking engagements at schools, community centers, churches and substance abuse support groups. At Gateway Springfield, Mr. Bridges spent an hour and a half with clients in the Adult Residential, Adult Outpatient and Adolescent Boys Residential programs. Following his speech, the gracious celebrity spent about 45-minutes with individuals, posing for photos and signing their personal AA and NA books.
Recovery Is Not a One-Man Show
During his remarks, Bridges divulged that the key to preserving his 21 years of sobriety has been giving back in order to keep it ("it" being recovery) and enlisting the support of the recovery community. A committed family man, Bridges reminded those with children how drug addiction impacts the entire family. He also urged attending teens to make better choices, reminding them that relapse only jeopardizes their freedom, families and potentially, their lives.
"Mr. Bridges revealed coming to places like Gateway and meeting people in the same shoes he once walked helps keep him grounded in recovery. He articulated the importance of working one's recovery program, having a sponsor and associating with healthy, positive people in recovery," says Kerry Henry, Executive Director, Gateway Springfield. "Bridges made it clear that he truly understands recovery is not a one-man show but rather an ensemble with a strong, supporting cast."
At Gateway Treatment Centers, former clients have access to life-long recovery support and fellowship via an Alumni Program. The program offers sober fun in the form of social outings, safe holiday celebrations, volunteer opportunities, recovery group meetings and useful workshops to enhance life skills. For more information, please visit RecoverGateway.org/Alumni/.
About Gateway Foundation Alcohol & Drug Treatment
Gateway Alcohol & Drug Treatment Centers provide substance abuse treatment services for adults and adolescents at drug treatment centers throughout Illinois and the St. Louis Metro East area. Gateway's outpatient and residential treatment centers are licensed by the state of Illinois and accredited by The Joint Commission. Each year, Gateway's substance abuse professionals help thousands of individual's successfully complete treatment. To learn more about Gateway's free, confidential consultation, call 877-505-HOPE (4673).