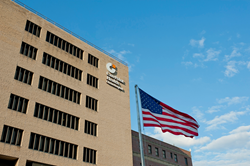 Hudson County, NJ (PRWEB) October 02, 2014
Inpatient detox services at CarePoint Health are now offered through a combination of individual and group treatment programs in a supportive, nonjudgmental environment at the Detox Center at Christ Hospital in Jersey City. Participants in the program develop skills that will help them function without substances in their home and community in an atmosphere conducive to dealing with the addiction as well as with core issues. The inpatient program strives to enable patients to detox with dignity.
CarePoint Health provides a comprehensive inpatient program designed to help patients maintain a substance-free lifestyle. The process begins with drug and alcohol detoxification. We offer an interdisciplinary approach combining:

The 12-Step model
Drug and Alcohol Relapse prevention principles/concentration
Psychological and psycho-educational interventions
"We view drug and alcohol addiction as a disease and believe that by addressing our patients' deepest physical, mental, and emotional issues we are able to reach the core of their addiction," says Tamer Wassef M.D., clinical head of Detox Services. "We have a strong community atmosphere which fosters peer support to promote positive outcomes. Each patient is treated as an individual and treatment plans are customized to fit their specific needs. Treatment programs are staffed by our highly credentialed addiction specialists to ensure that each patient receives an individualized rehabilitation treatment plan."
One of the biggest obstacles to recovery is fear of the withdrawal process. Many individuals with drug and alcohol issues will continue their addictive behavior long after they want to quit, simply to avoid the detox process and painful symptoms that accompany the withdrawal. Some even try to detox from their addictions at home, suffering through days of discomfort and violent withdrawal only to go back to abusing drugs and alcohol to relieve the pain. Patients checked into inpatient treatment at Christ Hospital will have the comfort of being at home with an easy-to-follow program towards recovery. There are scheduled daily activities, including group therapy and meetings, which are specifically designed to give patients a comprehensive support system while going through drug or alcohol detox.
For more information about CarePoint Health's Detox Services, contact:
Allyson Miller
CarePoint Health
Vice President of Marketing and Public Relations
Phone: 201-858-5297
Fax: 973-646-5563
Email: AMiller(at)bayonnemedicalcenter(dot)org
About CarePoint Health
CarePoint Health brings quality, patient-focused health care to Hudson County. Combining the resources of three area hospitals - Bayonne Medical Center, Christ Hospital in Jersey City, and Hoboken University Medical Center - CarePoint Health provides a new approach to deliver health care that puts the patient front and center. We leverage a network of top doctors, nurses and other medical professionals whose expertise and attentiveness work together to provide complete coordination of care, from the doctor's office to the hospital to the home. Patients benefit from the expertise and capabilities of a broad network of leading specialists and specialized technology. And at CarePoint Health, all of our medical professionals emphasize preventive medicine and focus on educating patients to make healthy life choices. For more information on our facilities, partners and services, visit our website, http://www.carepointhealth.org.