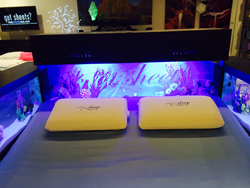 Be sure to tune in on October 17th to see our Natures Sleep Mattress featured on Animal Planets "Tanked" show
Davie, FL (PRWEB) October 01, 2014
Nature's Sleep is proud to be involved in an upcoming episode of Animal Planet's hit show, Tanked which airs Friday nights at 10:00 p.m. ET/PT. The episode will air on October 17 2014. Tanked follows two brothers-in-law, Wayde King and Brett Raymer, as they run the largest aquarium manufacturing company in the United States.
"It might seem strange that Nature's Sleep is involved with a show about aquariums," said Alan Hirshhorn, Vice President of Marketing for Nature's Sleep. "It came about because Nature's Sleep is the bed manufacturer for a company called Holy Sheets, and this company came up with a unique marketing concept that was chosen to be shown on the Animal Planet series, Tanked."
Holy Sheets is a company that offers luxury sheets that won't break the bank. Nature's Sleep manufactures the beds used in the Holy Sheets showroom. When Holy Sheets came up with the marketing concept of aquariums built around a bed, naturally they approached Nature's Sleep to build the bed.
"They pitched their aquariums-surrounding-a-bed idea to the producers and it was chosen for an episode because of the uniqueness of the concept and Holy Sheets' interesting store," said Mr. Hirshhorn. "We were thrilled to get involved."
The series Tanked features the production of some of the most outrageous, one-of-a-kind aquariums. The Holy Sheets and Nature's Sleep bed surrounded by fish tanks is no exception.
The Nature's Sleep bed is expected to be featured in the design phase part of the show. The bed has an aquarium as a headboard, as well as two additional aquariums lining both sides of the bed. On top of the bed, there are Holy Sheets brand sheets, as well as Nature's Sleep memory foam pillows.