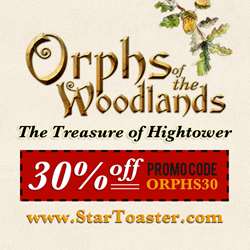 It's a book, but it's not a book. Orphs of the Woodlands does so many fun things right there in the story! ~12 year-old, Flint, Michigan
Fairhope, Alabama (PRWEB) October 08, 2014
Star Toaster (http://www.StarToaster.com) is changing online education with its book, "The Treasure of HighTower," the first release in the "Orphs of the Woodlands Series." This online book is geared towards parents who are involved with their children's education, especially those who homeschool. Star Toaster uses "The Treasure of HighTower" as a platform for over 300 lessons for 4th through 7th graders. Subjects include math, science, grammar, vocabulary, thinking skills, character, life skills, and the arts. This educational journey is topped off with a game that gives students the opportunity to apply what they've learned. The program instills in children the foundations for success by fostering a love of reading and a love of learning as shown in the video at https://www.youtube.com/watch?v=sLMZaMWhoAk. The program is designed to be completed by students within 60 days.
"The Treasure of HighTower" tells the story of an orphaned squirrel, known as an "orph" in the Woodlands. He is working as a spy to protect the Woodlands from evil Night Creatures. Students begin their reading adventure by naming the main character and then following him throughout his personal educational journey. What makes this online book unique is that it draws heavily on technology to integrate learning into the story. Rollovers show word families for vocabulary in the story, giving students synonyms at their fingertips. Other rollovers explain facts about everything from animals to nutrition to Latin sayings. Math and science are presented with humorous videos from the delightful Professor Forp. Visit https://www.youtube.com/watch?v=Op7lfoZOb0I to learn what he has to say about pH. Other lessons use flashcards or Memory Typer, a successful memory system. Links to music and sound effects, spy letters, disappearing ink, and inspirational quotes all work together to create an educational environment that motivates students to learn.
In the Woodlands, students work at "jobs," which are really exercises based on lessons they have learned. Students are paid in "goldstars," the currency of the Woodlands. In this fictional world that imitates real life, the more students know, the higher their pay. Goldstars are used to build a settlement in a game that is played at the end of each chapter. The goal is to provide for as many orphs as possible. Parents are sent progress reports about what their child is learning.
Two years in development, "Orphs of the Woodlands" is a safe and reliable educational resource that will resonate with teachers, homeschooling parents looking for an online curriculum, and all parents involved with their children's education. Students are left with a sense of purpose after reading this tale of an orphaned woodland critter. As readers are told in the story, "You write your own history. Make it good."
Star Toaster, LLC is an online educational company. The Star Toaster team includes an award winning graphic designer, web developers with years of experience in creating quality websites, and several talented editors. Their goal is to create educational programs that help children learn while instilling positive character traits. Star Toaster is offering a 30% discount (Promo Code ORPHS30) for a 60 day subscription in celebration of the release. For product information or to subscribe, visit http://www.StarToaster.com.