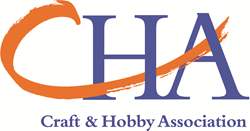 Elmwood Park, New Jersey (PRWEB) October 01, 2014
The International Art Materials Association (NAMTA) has announced that the Craft & Hobby Association (CHA) will again create a CHA Exhibitor Pavilion on NAMTA's Art Materials World show floor, April 15-17, 2015 in Denver.
"We are delighted to have CHA participating again in NAMTA's annual conference," said NAMTA Executive Director Reggie Hall. "Last year's initial partnership in Pittsburgh was a big success and we are pleased that CHA has increased the size of its pavilion for this year's event. NAMTA received a lot of great feedback from the exhibitors who were part of the CHA space."
The 2014 Pittsburgh event was the largest for NAMTA in several years and the year-over-year exhibitor registrations numbers for the 2015 Denver event are running ahead of the 2014 as of September 2014. For more information visit, http://www.namta.org.
Andrej Suskavcevic, CHA President and CEO said, "We are pleased to be partnering with NAMTA again next year. It's a wonderful opportunity to help CHA members expand their network in order to grow their business."
For more information on exhibiting in CHA's Pavilion at NAMTA's Art Materials World contact Nadine Schwartz, CHA Director of Sales, at nschwartz(at)craftandhobby(dot)org.
###
About NAMTA
The International Art Materials Association (NAMTA) is the world's largest association dedicated to promoting the art/creative materials industry. Members include retailers, manufacturers, distributors and importers from around the world. Our mission is to provide members with the products, services and information needed to grow and prosper. To learn more, visit http://www.namta.org.
About CHA
CHA is an international non‐profit trade association consisting of thousands of member companies engaged in design, manufacture, distribution and retail sale of craft and creative products. To learn more about CHA and membership opportunities contact membership(at)craftandhobby(dot)org or visit http://www.craftandhobby.org.