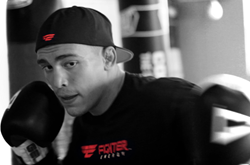 I don't know if he has more heart or skill, but he showed a lot of both during his professional debut and came out with a win!
Jacksonville, Florida (PRWEB) October 03, 2014
Preston Parsons is undefeated in five amateur mixed martial arts fights and claimed his first professional MMA victory on September 6th at House of Fame's "A New Dawn" at the Jacksonville Veteran's Memorial Arena. Parsons got into early trouble, but fought through for a stunning fifty-four second arm-bar victory (see video). His goals as a mixed martial artist are to claim as many titles in various fighting styles as possible. Parsons said, "I'm looking to fight the best fighters in various forms of martial arts. I strive to be a well-rounded fighter."
Parsons will be fighting to take home the World Jiu-Jitsu No-GI Championship this weekend in Azusa, California near Los Angeles. The International Brazilian Jiu-Jitsu Federation (IBJJF) is an organization that hosts the biggest Brazilian Jiu-Jitsu (BJJ) tournaments in the world, including the World Jiu-Jitsu Championship, No-Gi World Jiu-Jitsu Championship, Pan Jiu-Jitsu Championship and European Open Jiu-Jitsu Championship. The federation was created by Carlos Gracie, Jr., who is the head of one of the largest Brazilian Jiu-Jitsu associations, Gracie Barra.
Preston Parsons fights and trains out of Ludus Martial Arts in Jacksonville, Florida. Billy Mitchell, owner of Ludus Martial Arts and Preston's trainer said of Parsons, "I don't know if he has more heart or skill, but he showed a lot of both during his professional debut and came out with a win!" Fighter Energy® is proud to sponsor professional athletes across various sports who display the "fighting spirit". Of the product and sponsorship Parsons said, "I take Fighter Energy® for my long training sessions and it keeps me going without getting dehydrated. It's always right in my bag when I'm ready to work out." Fighter Energy® is available now at http://www.FighterEnergy.com and ships throughout the United States of America.
In addition to the sponsorship of Preston Parsons, Fighter Energy® announced their Platinum Title Sponsorship with House of Fame's next two mixed martial arts events in Florida. House of Fame, Mixed Martial Arts is Jacksonville's newest professional sports franchise dedicated to bringing high-profile, professional Mixed Martial Arts events to the Jacksonville community and throughout Florida. HOF not only showcases the fastest growing sport in the world on a national media platform, but promotes worthy causes in the community. House of Fame MMA is honored to be a chosen sponsor of the Wounded Warrior Project (WWP), and will be dedicating all of their Events to this charitable and necessary cause for Disabled Veterans.
Fighter Energy® is a breakthrough energy drink utilizing effervescent technology that powerfully delivers the punch of a full strength energy drink in a single effervescent (fizzy) tablet. Each tablet dissolves into water or your favorite beverage with no sugar, 5 calories, and is conveniently packaged in a tube of 10 drink tabs making it portable and easy to use. Fighter Energy® is a Service Disabled Veteran Owned Small Business (SDVOSB) based out of Jacksonville, Florida.
House of Fame, MMA was founded by Paris Tsitos. Mr. Tsitos who has been building companies for the past 14 years. He has also been involved in the martial arts industry for 17 years. This includes training, coaching, cornering, and competing, to building successful MMA gyms in the Northern Virginia area. HOF MMA combines Mr. Tsitos' passion for the martial arts industry with his successful business development background.