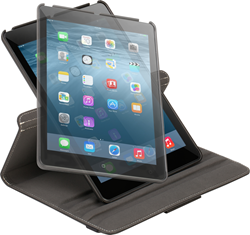 "Our customers love the 360° rotation feature. The design is simple, effective and puts them in control – just as it should."
Anaheim, CA (PRWEB) October 02, 2014
Targus Group International, Inc., trusted maker of quality mobile cases and accessories, today announced that the United States Patent and Trademark Office has awarded Targus utility patents (US 8,746,449 B2 and US 8,783,458 B2) with claims covering its revolutionary VersaVu™ 360° tablet case.
The height of innovation since introduced in 2011, the VersaVu 360° is the first tablet case that can pivot between landscape and portrait views on an integrated stand. The VersaVu 360° patent reinforces Targus' continued leadership in providing versatile tablet case solutions that set the standard for how users interact with their devices.
"Working professionals and students alike appreciate the exceptional versatility of the VersaVu 360° case," said Carolyn Perrier, Vice President of Marketing at Targus. "Our customers love the 360° rotation feature. The design is simple, effective and puts them in control – just as it should."
With over 4.8 million cases sold worldwide, the VersaVu 360° Collection is an industry breakthrough in that it enables users to customize their viewing experience when sharing presentations, working with apps, and watching videos. Available for multiple devices, the VersaVu 360° Collection delivers robust protection and enhanced functionality to help users get the most of our their device
The VersaVu 360° Collection can be purchased at Targus.com as well as through leading retailers, VARs, e-tailers, and direct marketers.
About Targus
Targus created the mobile accessory category with its invention of the laptop case over 30 years ago. The company continues to advance the mobile accessories category with innovative and relevant solutions for today's mobile lifestyle. Targus products enhance productivity, connectivity, and security, allowing users to work in any environment comfortably and conveniently. Founded in 1983, Targus' headquarters are located in Anaheim, Calif., with offices worldwide and distribution agreements in more than 100 countries. For more information on Targus visit targus.com.
# # #