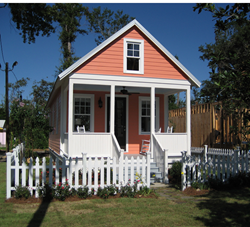 Whether used as an accessory dwelling unit for an elderly parent or boomerang child, a secondary income source or simply a new home for downsizing in retirement, Katrina Cottages continue to be a popular option among all age groups especially baby boomers
Miami, Fla. (PRWEB) October 06, 2014
Designer and author Marianne Cusato today announced the availability for purchase of plans for her award-winning Katrina Cottages, now available for sale on her website http://www.mariannecusato.com.
Cusato's Katrina Cottage designs, developed in the wake of the destruction on the Gulf Coast following Hurricane Katrina, have received multiple awards and acclaim, including the Smithsonian Institute's Cooper-Hewitt Design Museum's 2006 "People's Design Award." Her cottage designs were the basis for a $400 million Congressional appropriation for an alternative emergency housing program, to replace the infamous FEMA trailers. (WLOX, December 22, 2006; http://www.wlox.com/story/5851195/fema-turns-to-katrina-cottages-to-help-hurricane-victims)
Demand for the designs has been unflagging, particularly in the last year as more and more communities are interested in smaller designs for granny flats, infill housing, pocket neighborhoods, and Accessory Dwelling Unit (ADU) construction.
"Whether used as an accessory dwelling unit for an elderly parent or boomerang child, a secondary income source or simply a new home for downsizing in retirement, the Katrina Cottages continue to be a popular option among all age groups, especially baby boomers," says Cusato. "Municipalities across the country are looking to adjust their regulations to allow these units and we are seeing demand for plans spike in response."
Previously available as kit homes at home improvement giant Lowe's, the cottages are now only available in plan form. The eight designs available range from 308 to 1807 square feet and come with five printed plan sets and a license to build a single home. All plans are drawn at ¼ scale or larger and include:

Foundation Plan: showing all dimensions;
Exterior Elevations: A blueprint picture of all four sides showing exterior materials and measurements;
Floor Plans: Detailed plans for each level showing dimensions, windows, partitions, and electrical details;
Cross Section: A vertical cutaway view of the house from roof to foundation;
Interior Elevations: Detailed drawings of kitchen cabinet elevations and other elements as required.
For further information please contact april(at)iwprgroup(dot)com or see details on the cottages here: http://www.mariannecusato.com/#!portfolio/c8mm.
About Marianne Cusato:
Marianne Cusato is a designer, author and lecturer in the fields of real estate trends and housing. She has been ranked the #4 most influential person in the home building industry by Hanley Wood's BUILDER Magazine and in 2012 was voted one of the 30 Most Influential Women in the Housing Economy by HousingWire Magazine. Cusato is the author of two books: The Just Right Home with Daniel DiClerico (Workman, 2013) and Get Your House Right: Architectural Elements to Use and Avoid with Ben Pentreath, Richard Sammons and Leon Krier, foreword by H.R.H. The Prince of Wales (Sterling Publishing, 2008).