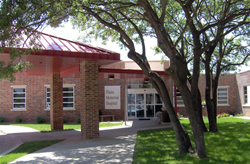 "...Sharing patient information electronically in a collaborative care environment...is the key to improving our patients' care." - Castro County Healthcare CEO Linda Rasor
ALPHARETTA, GA and DIMMITT, TX (PRWEB) October 02, 2014
Holon Solutions announced today that Castro County Healthcare-Plains Memorial Hospital has successfully deployed the CollaborNet™ Health Information Exchange (HIE) solution to facilitate the sharing of patient health information between the hospital and physicians in the community.
In its initial phase, Castro County, a 25-bed Critical Access Hospital in Dimmitt, Texas, is using Holon's e-tobacco HIE application in its hospital and clinic to enable one-click electronic patient referrals by physicians to the state's Quitline tobacco cessation program. Earlier this year, the Texas Tobacco Education, Cessation and Community Coalition program partnered with Holon to implement an affordable HIE that eliminates the need for costly interfaces between Quitline's system and the hundreds of electronic health record (EHR) systems used by providers throughout the state.
"We are looking forward to sharing patient information electronically in a collaborative care environment," said Castro County Healthcare Chief Executive Officer, Linda Rasor. "We know this is the key to improving our patients' care, and we are excited about stepping into this new territory with solid partners like TORCH and Holon Solutions."
Castro County's tobacco cessation program will be showcased at the hospital's health fair on Oct. 7. "Our goal is to assist our residents and patients to stop smoking, and this is a great way to spread the word about the program," said Ms. Rasor.
Castro County was introduced to Holon's CollaborNet HIE solution through its membership in the Texas Organization of Rural & Community Hospitals (TORCH). Holon and TORCH have teamed up with the goal of connecting 155 communities of care across the state of Texas, including Castro County Healthcare.
"We are excited about the work we are starting with Castro County to build a community HIE," said Mike McGuire, CEO of Holon Solutions. "We believe that Castro County's patients will directly benefit from increased care team collaboration and greater access to smoking cessation programs as a result of this HIE initiative."
ABOUT CASTRO COUNTY HEALTHCARE
Castro County Healthcare's Plains Memorial Hospital (http://www.plainsmemorial.com) is licensed by the Texas Department of Health as a Critical Access Hospital. They are dedicated to providing exceptional healthcare services to the entire Castro County community with a team of skilled professionals in a warm and comfortable setting using advanced technology and state-of-the-art equipment. Castro County Healthcare believes in providing a personal, high-value service, which is taking care of the county's health-care needs.
ABOUT TORCH
TORCH (http://www.torchnet.org) is an organization comprised of rural and community hospitals, corporations, and interested individuals working together to address the special needs and issues of rural and community hospitals, staff, patients, and communities they serve. TORCH's mission is to be the voice and principal advocate for rural and community hospitals in Texas, and to provide leadership in addressing the special needs and issues of these hospitals.
ABOUT HOLON SOLUTIONS
Holon's health information exchange (HIE) solutions help hospitals, health systems and rural providers facilitate a collaborative care environment by providing access to information at the point of care – without forcing anyone on the care team to change current systems or processes. For more information, visit http://www.holonsolutions.com, call 678-324-2060, or connect with Holon on Facebook, LinkedIn, Twitter or YouTube.
Media Contact:
Sheryl Roehl
Director of Marketing
Holon Solutions/SNAPS, Inc.
678.324.2008
sroehl(at)holonsolutions(dot)com
###