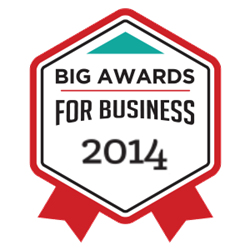 "The sheer amount of innovation and the renewed attention to the customer experience was a common theme."
Philadelphia, PA (PRWEB) October 02, 2014
The Business Intelligence Group today announced the winners of the 2014 BIG Awards for Business program. The BIG Awards specialize in recognizing top-performing companies and organizations with a proprietary judging process scored by well-known and experienced leaders and executives from around the globe.
"The winners this year epitomize what is going right with companies," said Russ Fordyce, Managing Director of the Business Intelligence Group. "The sheer amount of innovation and the renewed attention to the customer experience was a common theme. We are incredibly proud to reward each and every winner and finalist."
The 2014 BIG Awards for Business Winners are:
Entrepreneur Award
Josh James, CEO, Domo
Avinoam Nowogrodski, CEO, Clarizen
Executive of the Year
Rob Hull, CEO, Adaptive Insights
Woman of the Year
Victoria Repice, Senior Director of Product Management, NQ Mobile
Company of the Year
AppDirect
Teletrac Inc.
Adaptive Insights
Startup of the Year
MarketingVitals.com
Small Business of the Year
Divurgent
Green Company of the Year
GreenQloud
Case Study of the Year
AgilePoint Inc.
Acumatica
Product of the Year
MedNet Solutions for iMedNet EDC
Nexenta Systems Inc. for NexentaStor
Teletrac Inc. for Fleet Director
Spredfast for Conversations
New Product of the Year
MarketingVitals.com for IncentivizeMe!
Applied Predictive Technologies for APT Index
IgnitionOne for LiveMarketer
TouchCommerce for TouchStore
ChoiceStream for cs.Console
Green Product of the Year
AutoGrid for Energy Data Platform
The company also named several companies as "Finalists."
"The sheer volume of nominations this year made it difficult for our judges to single out winners in every industry," Fordyce continued. "The nominations from our Finalists stood above the pack and were deemed by the judging panel as superior examples in their respective industry."
2014 Big Awards for Business Finalists include Acumatica, Appcara, Inc., Authentify, Inc., Pluralsight, SnapLogic, SPLICE Software, Telarix, TrackVia, Utopic Software, and Voxox.
The Business Intelligence Group also announced the deadline of December 5th for the 2015 Big Innovation Awards. "As evidenced by the winning nominations, innovation is one of the primary drivers of our economy," Fordyce said. "We look forward to showcasing global innovations contributing to the accelerated growth of the economy."
Organizations that would like more information can visit the company's website at http://www.bigawards.org.
About Business Intelligence Group
The Business Intelligence Group was founded with a mission of recognizing true talent and superior performance in the business world. Unlike other industry award programs, business people, those with experience and knowledge, judge the BIG Awards. The organization's proprietary and unique scoring system selectively measures performance across multiple business domains and then rewards those companies whose achievements stand above their peers.