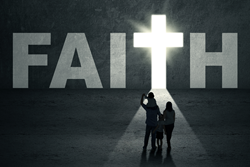 Christian marketing is very similar to mainstream marketing. Both are meant to reach people.
(PRWEB) October 02, 2014
GetUWired has just released a blog titled "6 Christian marketing tips from mainstream marketing stars." This blog is meant to help Christian marketers maximize their advertising efforts by using time-tested advice from mainstream marketing experts. To read the blog, click here.
What's the difference between Christian and mainstream marketing?
Not much. They both have the same goal -- to reach people. That's why it's great for churches and ministries to use mainstream advertising and tactics when designing their marketing campaigns.
Advice from The Greats
"Marketing is no longer about the stuff you sell, but about the stories you tell." – Seth Godin, author, marketer and founder of Squidoo
Testimonials are very effective in marketing materials because they seem more genuine than regular advertising "fluff." Gather member testimonials to use in campaigns, billboards, ads, and more.
"You cannot bore people into buying your product, you can only interest them in buying it." – David Ogilvy, known as "The Father of Advertising"
Facts and data are only important if they are important to readers. Make sure the copy in all marketing materials is catchy, concise, and easy to understand.
"If you can't turn yourself into your customer, you probably shouldn't be in the ad writing business at all." – Leo Burnett, advertising executive responsible for Tony the Tiger, The Marlboro Man, and many more
Great ad writers always put themselves into the mindset of the customer before they write even the first word. Before putting pen to paper, consider what needs, goals and desires potential churchgoers might be looking for out of their worship. Make sure to explicitly address why the church will fulfill those needs, and how.
One great tactic is to interview potential churchgoers and ask them outright what they're looking for. These people are the true source of the right information.
"In advertising, not to be different is virtually suicidal." – William Bernbach, creative director responsible for Volkswagen's "Think Small" campaign
From the outside, many churches look exactly the same. To make matters worse, they're also selling basically the same thing – salvation. That's why it's imperative to differentiate the church from others in the same area.
The first step in differentiation is to determine what makes the church different. There are probably many things that set it apart. Even if it is the most traditional church on the planet – that makes it different, too! Pick out the church's most unique qualities and push those in its marketing.
"Marketing without data is like driving with your eyes closed." – Dan Zarrella, author and Internet marketing expert
Testing will show which ads work and which ones to do not. This same principle applies to websites, landing pages, direct mail, and email copy.
There are ways to track everything, even print ads. Using trackable coupons, phone numbers and landing pages will show which ads are doing their jobs. Testing two campaigns against each other will help uncover what works in the church's particular market.
"The headline gets 5X as much readership as the body copy." – David Ogilvy, known as "The Father of Advertising"
Five times more people will read a headline as will read body copy, so make sure every headline sparkles. Headlines are natural attention getters, and many times they are the only chance to make a connection with readers. Write a headline that taps into the reader's desires and interests, promises a benefit, or inspires intrigue.
Need help with church marketing?
GetUSales offers an Infusionsoft church marketing system that will help any church reach more people with less work at a price that beats the competition. For more information, give call 855-834-4850 or visit http://www.churchmarketingsystems.com today.