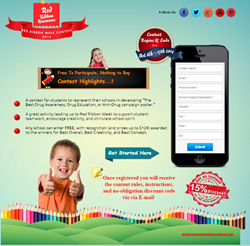 Messages provide long-lasting impact that kids & teens remember
Melville, New York (PRWEB) October 07, 2014
RedRibbonResources.com, a site of The Guidance Group, is organizing a contest for school students to develop the "Best Drug Awareness, Drug Education, or Anti-Drug Campaign Poster." The contest 'Red Ribbon Creatives' will accept school submissions from October 1st to October 17th, with the winner to be announced on October 22nd and prizes shipped out immediately thereafter.
The contest, envisaged as a great Red Ribbon Week activity, provides students the opportunity to engage in teamwork, stimulate their creative juices, and participate in school spirit.
Every participating school will also get a no obligation 15% discount on assorted message pencil sets from the RedRibbonResources.com site. Simply register for the free contest below and receive a discount code for the pencil sets.
The contest is free with no obligations, and each school can submit one poster per class. Principals are therefore encouraged to let each teacher register on behalf of their class, coordinate the project teams, and submit the chosen poster for their class directly to the contest.
The first, second, and third prizes shall be awarded for Best Overall Poster, Best Creativity, and Best Concept.
All entries will be judged by the contest committee for message, style, and impact. All posters will be shown on the Red Ribbon Resources Facebook page, with the top 20 also promoted on the Red Ribbon Resources blog. Winners will be announced on October 22nd in a press release, and through social media pages and the RedRibbonResources.com website.
A spokesperson for Red Ribbon Resources stated that, "We believe that messages have impact. Red Ribbon Week is a time when we as a nation can focus in on those messages we send to school students about making healthy choices and staying away from drugs. This contest is yet another small way to develop strong messages that will resonate with young people."
REGISTER FOR THE CONTENT HERE:
http://redribbonresources1.viewpage.co/red-ribbon-week-contest-2014
About Red Ribbon Week
Red Ribbon Week is a United States education and prevention initiative to raise awareness about the dangers of drugs and alcohol. During the official Red Ribbon Week -- celebrated from October 23rd to 31st of every year -- the initiative encourages students nationwide to make a pledge to live drug and alcohol free. Read about how it began.
About Red Ribbon Resources
Red Ribbon Resources is a products supply company focused exclusively on message campaigns for Red Ribbon Week. For more information visit redribbonresources.com.