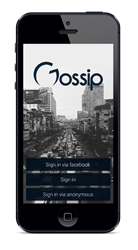 Cincinnati, OH (PRWEB) October 06, 2014
You've seen "Whisper", "Secret" and other social media apps that allow you to share anonymous messages. They're out of date.
The latest and most unique App is Gossip. Gossip about Work? Gossip about Friends and Family? Gossip about Local Government? Post it all on Gossip!
Developed by a highly experienced Team which has developed many other popular apps, Gossip is an anonymous posting application that allows users to post text, images and videos to a constant stream.
But that's not all, Gossip has also implemented several unique features. These features include the ability to tag Facebook friends and to increase anonymity by the use of the blur feature.
These features will bring a revolutionary change in the anonymous posting world. Gossip allows users to tag a Facebook friend in a post, without the friend knowing who tagged them. The blur feature allows different images in videos to be blurred out, so the user can remain anonymous.
"This is a new market for us and we are excited to be entering this aspect of the social media world. We are convinced that Gossip can serve a market that wants to share without bullying or excessive negativity", said Chris Burnett, Gossip's VP of Marketing.
These new innovative features make Gossip a must-have for social networkers. Gossip is set to release on the iOS platform by mid-October, and will be in the Android app store in fourth quarter 2014.