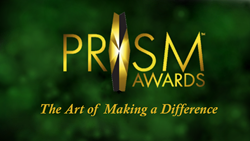 The movement to get more accurate character depictions and more informed news reporting about mental health is most important and PRISM puts influential, recognizable faces to the progress being made...
Los Angeles, CA (PRWEB) October 07, 2014
Entertainment Industries Council, Inc. (EIC) announces expanded availability for viewing the 18th Annual PRISM Showcase with host Dr. Drew Pinsky (Dr. Drew On Call) and guest co-hosts Candace Cameron Bure (Full House), and Tim Kang (The Mentalist). To see this year's honorees in television shows and movies that accurately depict mental health and substance use prevention, treatment and recovery visit EICnetwork.tv.
The 18th Annual PRISM Showcase also features many celebrity guests prominently wearing the lime green ribbon, representing Each Mind Matters, California's mental health movement. The lime green ribbon is a symbol of this movement to decrease stigma and discrimination towards those with mental health challenges.
The PRISM Awards and the Each Mind Matters campaign encourage the treatment of the health of the mind as synonymous to our treatment of the physical health of the body. The movement seeks to reduce stigma and barriers to support help-seeking behavior.
"The movement to get more accurate character depictions and more informed news reporting about mental health is most important and PRISM puts influential, recognizable faces to the progress being made," said News Director, Northwest Cable News, Wayne Lynch.
"This year, the heightened national conversation surrounding mental health is unprecedented. The 400 plus submissions reviewed and nominees scored by the PRISM Nomination Review Committee represent the foundation of this movement's commitment to authenticity in entertainment media. These productions and our airing partners shine a spotlight on life saving issues and better enable family and community conversations about mental health, substance use, and hopefully encourage individuals to seek the help they need," said Brian Dyak, President and CEO of EIC.
Dr. Drew, along with co-hosts Candace Cameron Bure and Tim Kang, will be joined on the show by Allison Janney (Mom), Chandra Wilson (Grey's Anatomy), Octavia Spencer (Red Band Society), Alison Haislip (The Morning After), Anthony Anderson (Black-ish), Justin Chambers (Grey's Anatomy), Academy Award winner Meryl Streep, Will Estes (Blue Bloods), Max Burkholder (Parenthood), Troian Bellisario (Pretty Little Liars), Tim Matheson (Hart of Dixie), Sharon Lawrence (The After), Lea Thompson (Call Me Crazy), Ernie Hudson (Call Me Crazy), Jason Ritter (Parenthood), Benjamin Stockham (About a Boy), Greer Grammer (Awkward), Laura Bell Bundy (Anger Management), Dee Wallace (Grimm), Grant Bowler (Defiance), Nikki DeLoach (Awkward), Windell Middlebrooks (Body of Proof), Michael Lomenda (Jersey Boys), Phillip P. Keene (Major Crimes), Agnes Bruckner (Anna Nicole), Carly Steel (OMG! Insider), Jaclyn Betham (The Haves and Have Nots), Kate Linder (The Young and the Restless), Katie Cassidy (Arrow), and Mackenzie Phillips. They will honor films and TV shows including August: Osage County, The Spectacular Now, Home, Nurse Jackie, Mom, Parenthood, Scandal, Greys Anatomy, Blue Bloods, Elementary, and Call Me Crazy: A Five Film.
To watch the 18th Annual PRISM Showcase check your local cable listings or log on to EICnetwork.tv
About Entertainment Industries Council
EIC is a non-profit organization founded in 1983 by leaders within the entertainment industry to bring the power and influence of the industry to communicate about health and social issues. The organization is considered to be the chief pioneer of entertainment and journalism outreach and a premiere success story in the field of entertainment education. This mission relies on providing resource information to the creative community and culminates in recognition of the industry through the national television special PRISM Showcase, which addresses accurate portrayals of substance use issues and mental health concerns. The organization also produces the SET Awards, honoring positive and non-stereotypical portrayals of science, engineering, and technology. For a complete list of health and social issues addressed by EIC and local projects, please visit First Draft and EIC's website. EIC's website is http://www.eiconline.org. The PRISM Awards website is http://www.prismawards.com.