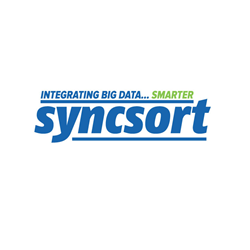 Woodcliff, New Jersey (PRWEB) October 02, 2014
Syncsort, a global Big Data software leader, today announced that Chief Executive Officer Lonne Jaffe has been named to NJBiz's prestigious list of forty distinguished businessmen and women under 40 years old. The annual "Forty Under 40" award honors the most accomplished young businessmen and women in their fields who share a commitment to business growth and community in New Jersey.
The "Forty Under 40" winners were selected by an independent panel of judges, who scored each nominee on a specific set of criteria: professional accomplishments, leadership, vision and community service.
Jaffe joined Syncsort as Chief Executive Officer in 2013, and through a combination of organic innovation and the acquisition and divestiture of global software businesses, has transformed the 46 year old firm into a leader in next-generation Big Data software, including powerful cloud-based offerings and advanced technology built on Apache Hadoop. Under Jaffe's leadership, Syncsort, which started out in the 1960s making enterprise-scale mainframe data transformation software, has recently forged important technology alliances with top Big Data industry providers such as Amazon Web Services, Cloudera, Hortonworks, MapR, Tableau, HP Vertica and Splunk.
"I am honored and flattered to be recognized with this award," said Jaffe, "it has certainly been a privilege to have had the chance to collaborate with the incredible team at Syncsort as well as our fantastic group of investors, including Insight Venture Partners, Bessemer Venture Partners, Goldman Sachs, and Georgian Partners."
Prior to joining Syncsort, Jaffe was the senior vice president of corporate strategy at CA Technologies, where he was responsible for the development and execution of the company's long term technical and acquisition-related strategic initiatives. Before joining CA, he spent over a decade at IBM, most recently as vice president of strategy for a multi-billion dollar division focused on software.
Winners were honored during an award reception on Monday, September 29.
About Syncsort
Syncsort provides fast, secure, enterprise-grade software spanning Big Data solutions in Hadoop to Big Iron on mainframes. We help customers around the world to collect, process and distribute more data in less time, with fewer resources and lower costs. 87 of the Fortune 100 companies are Syncsort customers, and Syncsort's products are used in more than 85 countries to offload expensive and inefficient legacy data workloads, speed data warehouse and mainframe processing, and optimize cloud data integration. Experience Syncsort at http://www.syncsort.com/en/TestDrive.
Media Contacts:
Michael Kornspan
Syncsort Incorporated
Director, Corporate Communications
Tel: 201-930-8216
mkornspan(at)syncsort(dot)com
Brian LoSchiavo
SHIFT Communications
Tel: 617- 779 – 1871
bloschiavo(at)shiftcomm(dot)com