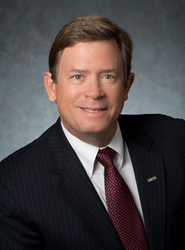 TAMPA, Fla. (PRWEB) October 01, 2014
Laddie Irion, HNTB Corporation's national aviation market sector leader and senior vice president, has been elected to the board of directors for Airports Council International – North America World Business Partners and Associates. The election results were announced at the 2014 ACI-NA Annual Conference and Exhibition in September in Atlanta.
Irion previously served as immediate past chair and WBP/Associates representative to ACI-NA in 2011. ACI-NA World Business Partners/Associate members are business organizations that support the airport industry; all members of the WBP/Associates board are elected for three-year terms.
In his role as national aviation market sector leader, Irion works closely with leadership and aviation professionals throughout the firm to achieve aggressive strategic goals and broaden the range of value-based services that HNTB provides its aviation clients. Irion is based in Tampa, Florida.
HNTB was recently ranked as the No. 1 airport design firm in Roads & Bridges magazine's 2014 Go-To List as preferred by the publication's readers. The firm's many signature aviation projects include design of the "Green Build" expansion at San Diego International Airport; engineering and design services at Los Angeles World Airports; design and construction management of runway status light implementation at airports across the country; and design of the runway expansion at Fort Lauderdale-Hollywood International Airport.
HNTB Corporation is an employee-owned infrastructure firm serving public and private owners and contractors. Celebrating a century of service, HNTB understands the life cycle of infrastructure and addresses clients' most complex technical, financial and operational challenges. Professionals nationwide deliver a full range of infrastructure-related services, including award-winning planning, design, program management and construction management. For more information, visit http://www.hntb.com.