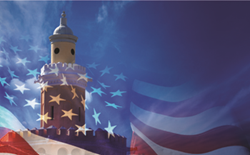 GULFPORT, Fla. (PRWEB) October 03, 2014
Stetson University College of Law will host a town hall on veterans' health care issues with Congressman David Jolly on Nov. 10.
Members of the public are invited to attend the town hall program from 1-2 p.m. at Stetson's Gulfport campus, located at 1401 61st St. S.
Congressman Jolly, who represents Florida's 13th Congressional District, has spoken at college campuses across the state on issues impacting veterans. He is a member of the House Committee on Veterans Affairs.
Stetson University College of Law launched a Veterans Law Institute in 2012 to increase legal services for eligible military members, veterans, and their immediate families who are eligible for free legal assistance and to help develop policy in the area of veterans law.
For directions to Stetson's Gulfport campus, visit http://www.stetson.edu/law/about/home/directions.php. RSVP events(at)law(dot)stetson(dot)edu.
###
About Stetson University College of Law
Stetson University College of Law, Florida's first law school, has prepared lawyers and leaders since 1900. Today, Stetson leads the nation in blending legal doctrine with practical training, evidenced by its top-ranked programs in advocacy and legal writing. Through our academically rigorous curriculum and commitment to social responsibility, Stetson lawyers are ethical advocates ready to succeed in the legal profession.