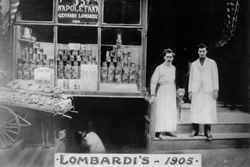 Pizza is by far the most popular food in the world," Rick Hynum said. "So it seemed only fitting to launch this website during a time of the year when pizza is on so many people's minds."
Oxford, MS (PRWEB) October 01, 2014
The Pizza Hall of Fame, created in 2005 by PMQ Pizza Magazine to celebrate America's oldest and most beloved pizzerias, now has its own home on the web. Located at http://www.PizzaHallofFame.com, the new website celebrates the rich cultural history of American pizza and pays homage to perennially popular U.S. pizzerias that have been in business for 50 years or longer.
PMQ chose to launch the new website in October in honor of National Pizza Month, notes Rick Hynum, the magazine's editor-in-chief. "Pizza is by far the most popular food in the world," Hynum said. "It's so awesome that Americans celebrate it annually for an entire month. So it seemed only fitting to launch this website during a time of the year when pizza is on so many people's minds."
Conceptually, the Pizza Hall of Fame has existed for nearly 10 years, ever since PMQ's publisher Steve Green and then editor-in-chief Tom Boyles kicked it off by inducting Lombardi's Pizza on November 1, 2005. Lombardi's, a Manhattan mainstay that's considered the oldest pizzeria in the country, opened its doors in 1905 and received the first-ever Pizza Hall of Fame membership plaque as part of its 100th anniversary celebration. The plaque itself has since become a major attraction for Lombardi's customers, said John Brescio, the pizzeria's owner. "A lot of people come to Lombardi's and take pictures in front of the plaque," Brescio said.
Since 2008, PMQ Pizza Magazine has used its "Time Capsule" section to spotlight pizzerias that have been in business more than 50 years. That section has now been renamed "Pizza Hall of Fame," and all pizzerias that qualify to be featured there will also be showcased at http://www.PizzaHallofFame.com. There are currently several dozen pizzerias featured on the website with more entries to come.
"Pizza is such an integral part of the American experience," Green said. "We wanted to commemorate its role in our culture. Every pizzeria in the Pizza Hall of Fame—and each one that will soon be inducted—is a local landmark. These pizzerias are more than restaurants—they are institutions in their community."
"You can think of PizzaHallofFame.com as a sort of online love letter from PMQ to the pizza industry," Green adds. "We are lucky to work in this business, serving the world's greatest food to the world's most appreciative customers."
PMQ Pizza Magazine is the leading national trade publication for the pizza restaurant industry. More information can be found at http://www.pmq.com.