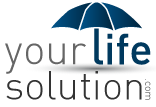 Since the funds are utilized via a 0% interest loan and therefore not considered income, this allows for no-strings-attached retirement income
Chicago, IL (PRWEB) October 02, 2014
YourLifeSolution.com, a service which allows consumers to research and view life insurance rates entirely online, is today publishing a method which would allow individuals to create their own pension. The method, unlike many group pensions, has safeguard to prevent against losses from a market that is performing poorly. "This method has a back-tested internal-rate-of-return of over 7% per year over the last 20 years. With a young very healthy person, the returns can be even better. This method to create your own pension allows for tax free accumulation of funds, and tax free distribution later in life. When taxes are factored in, there is virtually no other safe investment that comes close," said Eric Smith, the founder and independent life insurance agent of YourLifeSolution.com.
YourLifeSolution.com has published and explanation of their "Create Your Own Pension" concept here:
http://yourlifesolution.com/lifeinsurancequotes/create-a-tax-free-retirement/
According to the service, the method works by accumulating funds in an indexed universal life insurance policy and then systematically borrowing those funds later in life at a guaranteed 0% interest rate. "Since the funds are utilized via a 0% interest loan and therefore not considered income, this allows for no-strings-attached retirement income. An investor utilizing this method doesn't have to worry about losing money in the next market crash or inevitable tax increases in the future. Since this concept is not an IRA, there are no mandatory distributions to deal with either. You'll never be forced to take money out of it and you get to define the appropriate retirement age," said Eric Smith.
Consumers interested in learning more about the "Create Your Own Pension" concept are encouraged to visit YourLifeSolution.com's tax-free retirement section or call Eric Smith at 888.374.2764.
Instant life insurance quotes can be viewed on the homepage of YourLifeSolution.com.