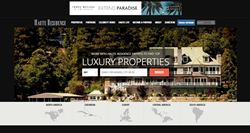 Los Angeles, CA (PRWEB) October 01, 2014
On Monday, October 6th, 2014, Haute Residence will host a groundbreaking Real Estate Summit in Los Angeles.
The elite event will honor HauteResidence.com's month-long global launch as an exclusive, membership-driven luxury real estate portal, featuring one leading real estate agent in each top market across the globe. Offering clients a unique convenience, the newly revamped site provides homebuyers the opportunity to find their dream havens with the help of some of the world's leading real estate professionals.
Slated to unfold the day after HauteResidence.com's Kickoff Party—a thrilling bash co-sponsored by Westime and Coldwell Banker International, to be held at Soho House L.A.—the grand symposium will showcase riveting discussions led by three esteemed panels, each comprised of some of the most prominent figures in the industry. Topics that will be touched upon include the impact of the Internet on the real estate industry, the use of social media as a marketing tool, and the difference between representing foreign versus local clientele.
The Power Brokers' Panel—helmed by Frank Symons (Executive Vice President and COO of Sotheby's International Realty's western region) and Chris Crocker (Vice President of Strategic Partnerships at Zillow)—will feature real estate bigwigs Jeff Hyland (Hilton & Hyland), Joyce Rey (Joyce Rey Real Estate), Myra Nourmand (Nourmand & Associates), Rob Giem (Sotheby's International Realty), and Suzanne Perkins (Sotheby's International Realty).
The Southern California All-Stars roundtable—moderated by Haute Living co-founder Seth Semilof and Tim Lappen (Chairman of the Luxury Home Group at the law firm of Jeffer Mangels)—will spotlight heavy-hitters Linda May (Coldwell Banker International), Irene Dazzan-Palmer (Coldwell Banker International), Marcy Weinstein (McKown | Weinstein & Partners), Drew Mandile (Sotheby's International Realty), and Tami Pardee (Pardee Properties).
Last but not least, the Next Generation talk—led by Chris Crocker and Tim Lappen—will feature young, accomplished professionals such as Josh Flagg (Rodeo Realty) and Matthew Altman (Hilton & Hyland), both of whom are stars of Bravo TV's Million Dollar Listing, as well as Aaron Kirman (Aaroe Estates), and Sandro Dazzan (Coldwell Banker International).
Set to take place at Mr. C's Beverly Hills' Penthouse Ballroom, the impressive gathering of West Coast real estate experts is only the first of two exciting roundtables Haute Residence will be hosting this fall, with the second slated to take place in New York on October 21st at The Core Club in Manhattan.
Moderated by the Fox Business Network, the east coast affair will host Lifetime Achievement Award winner Richard LeFrak, along with Ugo Colombo, Edgardo Defortuna, Kevin Maloney, and Don Peebles. It will feature a candid discussion centered upon the Miami lifestyle, investment opportunities, and the past, present, and future of the city's real estate market.