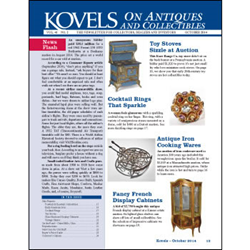 Cleveland, OH (PRWEB) October 02, 2014
Toy cook stoves are featured with pictures and prices in "Kovels on Antiques and Collectibles" October 2014 newsletter. A buyer paid $4,320 for a Great Majestic Junior stove at a Pennsylvania auction where more than 150 antique and vintage toy stoves were sold. It's not just small fry who love miniature stoves – they're hot collectibles today. Many women today still love to wear a big showy cocktail ring. A summer Detroit auction offered vintage cocktail rings with semiprecious stones in settings of real gold. Kovels' October newsletter dazzles with pictures of sparkling cocktail rings that sold for under $800. A major collection of iron cookware from America's early years sold at a summer Massachusetts auction and attracted high prices. A standing horseshoe-shaped broiler that auctioned for $6,150 was the top seller. Kovels' offers pictures, descriptions and prices of useful and creative cookware and hearth equipment made by clever blacksmiths more than 200years ago.
It's October – so it's a good time for Kovels' newsletter to report on football and baseball memorabilia. A North Carolina sports auction's inaugural sale featured lots of items that could turn up in an attic or an old drawer – from a 1915 World Series game ticket that sold for $5,452 to a bat-shaped pen and pencil set that went for $29. Find more items in Kovels' October newsletter. Collectors looking for antique display cabinets to show off small collectibles scored some big bargains at a Kansas auction, where lighted cabinets with glass doors and shelves sold for very reasonable prices. Pictures, prices and descriptions of various styles are included in Kovels' October issue. And most old skates aren't worth much and won't sell. But Kovels' pictures five pair of unusual old roller skates that sparked some interest at a New York auction and sold from $23 to $263.
Terry Kovel reports on the annual antiques show in Gates Mills, Ohio. New Uses for Old Stuff pictures a display stand made from a silver fork. The popular illustrated Collector's Gallery answers readers' questions about a Mickey Mouse child's plate, Philip Morris "bellboy," an unusual Victorian revolving bookcase and a baking powder tin. October's Dictionary of Marks lists marks used by American manufacturers of graniteware. The Buyer's Price Guide has current prices of dozens of antiques and collectibles.
"Kovels on Antiques and Collectibles" is available as a print subscription or as a digital version that is part of the Kovels.com Premium subscription.
Terry Kovel is America's foremost authority on antiques and collectibles. She is the well-known columnist and author of more than 100 books on antiques and collecting. With her daughter, Kim Kovel, she co-authors the best-selling annual "Kovels' Antiques and Collectibles Price Guide." The all-new 2015 edition is now available. They will discuss antiques and collectibles topics with accredited media. Photographs are available. Contact pr(at)kovels.com.
About Kovels.com
Kovels.com, created by Terry Kovel and Kim Kovel, provides collectors and researchers with up-to-date and accurate information on antiques and collectibles. Kovels' Antiques was founded in 1953 by Terry Kovel and her late husband, Ralph. Since then, Kovels' Antiques has published some of America's most popular books and articles about antiques, including the best-selling "Kovels' Antiques and Collectibles Price Guide," now in its 47th edition. The Kovels' website, online since 1998, offers 900,000 free prices, and includes a free weekly email, "Kovels Komments." Kovels.com gives readers a bird's-eye view of the market through the latest news, auction reports, a Marks Dictionary, readers' questions with Kovels' answers and much more.
Contact Information:
Liz Lillis
216.752.2252
Pr(at)kovels(dot)com