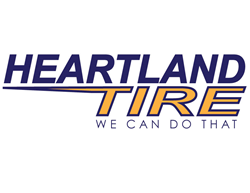 Heartland Tire has developed a reputation across Minnesota of delivering top quality service and repair, and we're excited have this opportunity to deliver that same quality of service to the Twin Cities area" - Adam Kay, Corporate Operations Manager
BRAINERD, Minnesota (PRWEB) October 02, 2014
Heartland Tire, one of the fastest growing auto repair and tire service centers in Minnesota, announced their acquisition of five additional locations in the Twin Cities metro area earlier this month.
With the recent acquisitions of Galaxy Auto Centers, in the north metro, and two additional Goodyear Tire and Service stores, Heartland Tire will now be serving the communities of Brooklyn Park, Columbia Heights, Spring Lake Park, Ramsey and Champlin, Minnesota.
"Heartland Tire has developed a reputation across Minnesota of delivering top quality service and repair, and we're excited have this opportunity to deliver that same quality of service to the Twin Cities area," says Corporate Operations Manager, Adam Kay. "It's our hope that these acquisitions serve as a catalyst for future growth across the state of Minnesota, and potentially other regions as well."
David Mitchell, President of Heartland Tire, along with his team, Beau Mitchell, General Manager, Shannon Bergman, VP of Off the Road & commercial, Joe Cramer, VP of Logistics, Teri Kurth, Corporate Controller and Kay, have been pivotal in helping to guide the company through its recent growth. Heartland Tire, with the additional five stores, will now operate a total of eleven stores in the state of Minnesota.
The five new stores in the Heartland Tire franchise, all part of the Goodyear Tire & Service Network, will focus primarily on auto repair and tire sales and service. Heartland Tire's headquarters, on 13th Street in Brainerd, and the locations in Little Falls, St. Cloud, Wadena and New Ulm, MN, will continue to service commercial trucks, off the road vehicles, and farm equipment. Their headquarters in Brainerd will also continue to provide all tire retreading services for their other locations as well as customers across the Midwest region.
About Heartland Tire
For over 30 years, Heartland Tire has been providing auto and truck repair, tire sales and service, tire retreading, and off-the-road and farm equipment repair to the Central Minnesota area. As a family-owned and operated organization, Heartland Tire is dedicated to providing the highest quality of service to their customers, at a competitive and fair price. To learn more about Heartland Tire, and Heartland Tire's new locations, visit http://www.HeartlandTireService.com.