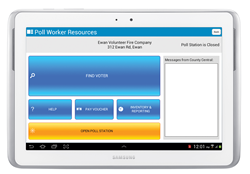 We feel that the introduction of this technology is a necessary step as California moves towards same day registration in 2016
San Diego, CA (PRWEB) October 02, 2014
After conducting a pilot with competing vendor's poll book solutions during the California June 3rd Statewide Direct Primary Election, the Nevada County Elections Office selected Everyone Counts, Inc. as its electronic poll book vendor. The devices will be utilized in precincts countywide during the November 4th General Election.
The Everyone Counts eLect® Electronic Poll book was selected over one of the other mainstream competitors. Nevada County Clerk-Recorder/Registrar of Voters, Gregory J. Diaz, stated, "We are excited about the introduction of poll books to the County. It has been clearly demonstrated that poll books are a valuable addition to the elections process. The overall benefits of implementing electronic poll books includes: increased speed of processing, higher level of accuracy, quicker posting of elections results, reduction in number of temporary employees, and substantial cost reduction per election. All expected benefits were achieved during the pilot, and many more are being realized."
The use of electronic poll books during the pilot was deemed a success, and surveys conducted at polling places revealed a favorable opinion by both poll workers and voters. Assistant Clerk-Recorder, Sandra Sjoberg, mentioned, "Surveys conducted during the pilot illustrated that 100% of poll workers found the technology of poll books helpful. We feel that the introduction of this technology is a necessary step as California moves towards same day registration in 2016."
Nevada County's expected benefits were achieved during the pilot and Nevada County Clerk-Recorder Gregory J. Diaz noted that the introduction of e-poll books "could generate a savings of $39,000 per election, or $195,000 for five elections."
The eLect® Electronic Poll Book, Everyone Counts' software-based solution, which runs on commercial, off-the-shelf touchscreen tablets, will be in use at precincts throughout Nevada County on Election Day. A total of 60 units of the state-of-the-art electronic poll book were purchased by Nevada County to quickly and accurately check-in voters and assemble and collect local data. eLect Electronic Poll Book streamlines polling location processes and reduces the cost of printing and delivering paper rosters.
The transition from traditional paper poll rosters to electronic poll books will enable Nevada County to better utilize taxpayer dollars by reducing the number of required poll worker staff per polling location, lowering printing costs for paper rosters, diminishing the number of provisional ballots issued, streamlining the process of uploading voter history, and impacting the volume of calls to the Elections Office on Election Day.
Nevada County will also be leveraging Everyone Counts' Election Night Reporting system for the November General Election. This system provides up-to-the-minute election reporting and allows voters to view their own precinct results.
###
About Everyone Counts:
Everyone Counts, Inc. is the leader in bringing new technology solutions to the $31 billion global elections industry through its state-of-the-art enterprise Software as a Service (SaaS) voting and election administration solutions. These cloud-based systems reduce costs for our public and private customers, saving them up to 50% over current systems, while improving the voting experience and significantly increasing security and auditability in election administration and voting. 2013 saw Everyone Counts taking stewardship of the State of New Jersey's Voter Registration System, as well as providing online voting for the iconic Academy Awards, which resulted in their highest voter participation ever. In 2014, Everyone Counts transitioned the Emmy Awards to online voting, as well as worked with South Dakota and Arizona to improve voting for Military Overseas voters. Over 240 counties used Everyone Counts' solutions for Primary Elections, with more joining for General Elections in November.