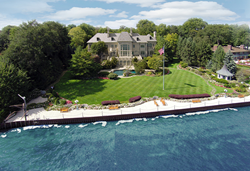 "We are excited to partner with Grand Estates...after seeing the fantastic job they did in selling a comparable home in Bay Harbor, MI this summer," said Jaime Rae Turnbull, Higbie Maxon Agney,
Grosse Pointe Shores, MI (PRWEB) October 01, 2014
Grosse Pointe, Michigan is a close-knit community rich in history, located 15 miles from downtown Detroit and is notorious for its natural beauty, tranquil surroundings and Lake St. Clair shoreline. It is also home to the Grosse Pointe Yacht Club, a boating and social activity club that offers members abundant leisure activities. Now the most spectacular estate in this captivating community is going up for grabs in an absolute auction. This nearly 28,000 sq. ft. mansion (including the lower level and carriage house) sitting on 3.75+/- lakeside acres will sell to the highest bidder in a live, on-site auction on October 28th. Numerous interior and exterior photos of the property are available online at: Grosse Pointe Mansion.
Grand Estates Auction Company is working in conjunction with Jaime Rae Turnbull, Higbie Maxon Agney, Inc. to auction the estate property. "We are excited to partner with Grand Estates, a leader in the niche market of auctioning luxury real estate, after seeing the fantastic job they did in selling a comparable home in Bay Harbor, MI this summer," said Turnbull.
With 265 feet of shoreline, this residence was custom built in 1991 and strikes a perfect balance between elegance and intimacy. It combines opulent, palace-sized rooms with modern comforts and play zones for an entire family and friends.
"No other property can compare to this trophy lakefront estate in the heart of this exclusive community," stated Grand Estates Auction Company Director of Sales Development Stacy K. Reich. "Grand Estates is exceedingly proud to market this mansion to a global audience. Some fortunate bidder is going to walk away on October 28th owning what has been referred to as the crown jewel of Michigan."
The main level of the home is the most ornate of the three. It starts with the soaring, two-story foyer and a floating curved staircase. In the adjacent formal living room are a stunning Rococo-style fireplace and a 21-vertical foot-glass window with lead glass overlooking the serene lake. The dining room is equally impressive; it is 36 feet long and has a table that expands to seat 26 guests. The gourmet kitchen on this level is fully equipped to cater a lavish banquet with its state-of-the-art wood paneled appliances, breakfast nook and hearth room with limestone stone fireplace.
The terrace level of the home is known as the "fun zone." Here the family can splash in an indoor pool, relax in the hot tub or sauna, watch a movie in the theater while enjoying snacks made in the full kitchen, shoot pool in the game room, workout in the exercise room or relax in the massage room. Beyond the terrace doors lies an outside playground with another pool, tennis and basketball courts and a putting green complete with a bunker.
On the upper level of the residence, the master suite offers the owners unparalleled luxury and convenience with its spacious walk-in closet/dressing room, opulent master bath with Jacuzzi tub and expanded shower with 16 showerheads and a sitting area near the fireplace. All five guest bedrooms on this level have en suite baths and private balconies, including the carriage house apartment.
Other notable features and amenities include elevator access to all three levels, custom murals throughout, a private/gated entry, a grand courtyard with a water feature, a children's' nursery with a built-in play boat, and a library with carved oak paneling.
The live auction starts promptly at 2:00 p.m. on Tuesday, October 28th. Provisions for remote bidding are feasible. The property will be open for prospective bidders to preview beginning Friday, October 24th at 11:00AM with daily preview times scheduled through the date of the auction. Buyers may contact Grand Estates Auction Company's office to schedule an appointment during one of the preview times at 877-376-9560. A $200,000.00 certified check or personal check along with a bank letter of guarantee is required to register to bid. Real estate agents and brokers are fully protected and encouraged to participate. There are no contingencies, no lengthy negotiations and timelines for closing are already established. To help buyers make an informed purchase, a comprehensive due-diligence packet is available and ample time is allotted for tours and inspections prior to the auction.
ABOUT HIGBIE MAXON AGNEY
For over 80 years, Higbie Maxon Agney (HMA) has specialized in marketing waterfront properties and luxury homes located in Grosse Pointe, Michigan. The team at HMA brings immeasurable knowledge, experience and professionalism to each and every transaction. Generations of home buyers and sellers have looked to HMA for insight and guidance, embracing the corporate philosophy of "Matching People and Houses . . . with Imagination." Visit http://www.higbiemaxon.com.
ABOUT GRAND ESTATES AUCTION COMPANY
Grand Estates Auction Company has an unsurpassed closing rate in the luxury residential real estate auction industry. Based in Charlotte, the company was established in 1999 and was the first of its kind. Grand Estates recently sold a waterfront home in Bay Harbor, MI for $11 million. For information and details, visit http://www.GrandEstatesAuction.com.