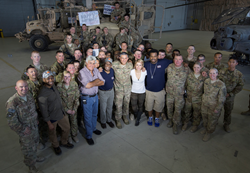 These men and women give up so much..., said Shlesinger. "Their sacrifice deserves acknowledgement, admiration and reverence. Entertaining them is not only my self-imposed duty, but it is my absolute honor as a fellow American."
Arlington, VA (PRWEB) October 01, 2014
TODAY's Al Roker is ensuring one of the USO's last entertainment tours to Afghanistan is a special one - broadcasting live from Bagram Airfield on Oct. 1 as well as broadcasting behind-the-scene clips of the TODAY/USO Comedy Tour on Tuesday, October 7. Surrounded by troops and joined by comedian/former late night talk show host Jay Leno, musician Kevin Eubanks, actor/comedian Craig Robinson and comedian Iliza Shlesinger – who occasionally joined him during the broadcast to express their gratitude to troops and military families – Roker brought smiles, laughter and cheer to virtually everyone in sight today.
DETAILS:

During a live broadcast of the TODAY Show, Roker spoke with more than 500 service members, including Major General Stephen J. Townsend, Commanding General Regional Command East Combined Joint Task Force - 10; Staff Weather Officer in Charge Major Staci Coleman; and a five-piece U.S. Army band led by SSGT Michael Rhodes. Roker also spent time stressing the importance of family connection – interviewing three military families who serve on Bagram Airfield. Among them were SMSgt Henry Johnson and MSgt Melanie Johnson, and their son SrA Dillon Johnson; SMSgt Duston L Ross and his daughter SSgt Kiley Cantrell; as well as TSgt John R. Trujillo and his daughter SSgt Kimberly A. Buzzel.
One day into their visit, Roker and his famous friends have already met and spent time with more than 1,500 servicemen and women. Roker also surprised viewers of The Weather Channel's "Wake Up With Al" – with a special weather report from Afghanistan.
Taking part in a time-honored USO tradition of bringing well-known stars to Afghanistan to visit, entertain and uplift troops, Roker later emceed a 90-minute TODAY/USO Comedy Show for more than 1,000 troops stationed at Bagram Airfield featuring his famous friends. Clips of the concert – sure to be filled with laughs, smiles and song – will be shown on NBC's TODAY Show on Tuesday, October 7. This USO tour marks the first USO experience for Roker and Robinson, with Leno, Eubanks and Shlesinger having toured with the USO before.
As of September 19, 2014, the USO has deployed 61 celebrity entertainers on 44 tours to 15 countries and 30 states, entertaining more than 162,000 troops and military families. Five of these tours were to a combat zone.
On Tuesday, January 7, 2014, Roker announced to the world that he would be going on a USO tour in 2014 as part of NBC's TODAY 'Shine A Light' series," a year-long initiative focusing on service and giving back. Eight months later Roker fulfilled that promise, announcing plans to travel to the Middle East with the USO (and a few famous friends) and asking the American public to support the USO by donating money at https://www.crowdrise.com/roker. To date, more than $12,300 has been raised.
Widely recognized as America's favorite weatherman, Al Roker landed co-anchor and weather feature anchor with NBC'S TODAY Show in January 1996. In addition to his role on TODAY, the twelve-time Emmy Award winner hosts "Wake Up With Al," a weekday morning program on The Weather Channel. Raised in Queens, New York, he has also produced several programs for PBS, MSNBC, CNBC and The Food Network, among others.
One of the country's premier comedians, Jay Leno has performed hundreds of comedy shows around the U.S. for the past 20-plus years. Former host of NBC's Emmy Award-winning show "The Tonight Show with Jay Leno"– to which Leno manned for a remarkable 17 consecutive years, Leno's trademark style has earned him fans worldwide. Born and raised in New Rochelle, New York, Leno was inducted into the Television Hall of Fame in 2014. Touted as 'the nicest and hardest-working man in show business,' Leno will be presented with the 17th annual Mark Twain Prize for American Humor by The Kennedy Center on October 19.
Acclaimed guitarist and composer Kevin Eubanks is best known for leading the "Tonight Show Band" with host Jay Leno. Born in Philadelphia, Pennsylvania, he grew up in a musical family. A talented musician by his teens, Eubanks went on to study music at Berklee College of Music in Boston and make his solo recording debut in 1982. Today, with more than 20 albums under his belt, Eubanks has had an illustrious career. In 2012, he released "The Messenger."
Best known for his role as "Darryl Philbin" on NBC's "The Office," Craig Robinson was born in Chicago, Illinois and grew up with a love of music. Branching into comedy and acting in 2005, he has made a name for himself in both television and film, most recently in blockbuster comedy "This Is The End." This Christmas, he will be reprising his leading role in "Hot Tub Time Machine 2," the sequel to the 2010 film and next year, will return to NBC, starring in a sitcom loosely based on his pre-Hollywood experience as a K-8 music teacher in Chicago, titled "Mr. Robinson."
Iliza Shlesinger is the only female and youngest comedian to hold the title of NBC'S Last Comic Standing. Most recently her debut one hour comedy special, War Paint reached #1 on the iTunes charts and was named one of the "Top Ten Albums of 2013" on iTunes. It is currently available on Netflix. She was the host of CBS's syndicated comedy dating show Excused, in which she filmed 230 episodes. Iliza's TV credits include TBS' Deal With It, Comedy Central Presents, as well as NBC'S Late Night with Jimmy Fallon, Comedy Central's Live at Gotham, E! Network's Chelsea Lately and The Soup, TBS' Who Gets the Last Laugh?
QUOTES:
Attributed to Kevin Eubanks:
"It's a honor to bring whatever we can to our troops. I want to see them enjoying themselves because compared to what is asked of them, doing what we can to help brighten their day, letting them know we care by entertaining them is the least we can do to show our appreciation to these brave men and women of our Armed Forces."
Attributed to Craig Robinson:
"At lunch I asked some soldiers, "Who is the toughest branch of service?"...we laughed a bit then one of the soldiers broke it down how each branch needs each other. That's what I'm taking from this trip...we all need each other."
Attributed to Iliza Shlesinger:
"These men and women give up so much – their time, daily freedoms, luxuries and, in many cases, their lives so that we can enjoy the freedom of being Americans. Their sacrifice deserves acknowledgement, admiration and reverence. Entertaining them is not only my self-imposed duty, but it is my absolute honor as a fellow American."
Attributed to J.D. Crouch II, USO President and CEO:
"I can't thank Al and our friends at TODAY enough for shining a spotlight on the USO and the troops and families we support worldwide. Deploying a tour of this caliber was a treat not only for the troops downrange but also their loved ones back home. Seeing familiar faces like Al and Jay in-person, on the frontlines, and not on television provided an extra special a touch of home."
MULTI-MEDIA:
USO Tour Photos: http://bit.ly/1vkOzRv
NBC Video: http://www.today.com/news/al-roker-jay-leno-kick-uso-comedy-tour-afghanistan-2D80183658
###
About the USO
The USO (United Service Organizations) lifts the spirits of America's troops and their families millions of times each year at hundreds of places worldwide. We provide a touch of home through centers at airports and military bases in the U.S. and abroad, top quality entertainment and innovative programs and services. We also provide critical support to those who need us most, including forward-deployed troops, military families, wounded warriors and their families and the families of the fallen.
The USO is a private, nonprofit organization, not a government agency. All of our programs and services are made possible by the American people, support of our corporate partners and the dedication of our volunteers and staff. In addition to individual donors and corporate sponsors, the USO is supported by President's Circle Partners: American Airlines, AT&T, Clear Channel, The Coca-Cola Company, jcpenney, Kangaroo Express, Kroger, Lowe's, Northrop Grumman Corporation, Procter & Gamble, and TriWest Healthcare Alliance and Worldwide Strategic Partners: BAE Systems, The Boeing Company, Lockheed Martin, Microsoft Corporation and TKS Telepost Kabel-Service Kaiserslautern GmbH & Co. KG. We are also supported through the United Way and Combined Federal Campaign (CFC-11381). To join us in this patriotic mission, and to learn more about the USO, please visit uso.org.
About NBC's TODAY
NBC's TODAY is the news program that informs, entertains, inspires and sets the agenda each morning for Americans. Airing live from 7 am to 11 am ET, TODAY reaches more than 5 million people every day through its broadcast, and millions more through TODAY.com, the TODAY app, and social media platforms. Matt Lauer, Savannah Guthrie, Al Roker, Natalie Morales, Willie Geist, Tamron Hall, Carson Daly, Hoda Kotb, and Kathie Lee Gifford are the anchors and hosts, and Don Nash is the executive producer.