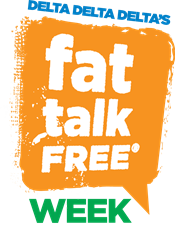 Tri Delta was founded on the premise that our members should 'be kind alike to all and think more of a girl's inner self and character than of her personal appearance.'
Arlington, TX (PRWEB) October 03, 2014
Delta Delta Delta Fraternity is pleased to announce the seventh annual Fat Talk Free® Week Oct. 20-24, 2014. Fat Talk Free Week is an international, 5-day body image awareness campaign to draw attention to body image issues and the damaging impact of the "thin ideal" on women in society. This annual public awareness effort was born from Tri Delta's signature body image programs and initiatives including Reflections: Body Image Program® and BodyImage3D®.
Fat Talk describes any statement that reinforces the thin ideal standard of beauty and contributes to an individual's dissatisfaction with his or her body. Fat Talk Free Week aims to change the way we think and feel about our bodies and to promote a healthy lifestyle that urges individuals to live a balanced life in mind, body and spirit.
Fraternity President Phyllis Durbin Grissom, Southern Methodist, says, "Having a healthy body image is not just a concern for sorority women but a concern for women and men of all ages. Tri Delta was founded on the premise that our members should 'be kind alike to all and think more of a girl's inner self and character than of her personal appearance.' I am so pleased to see that our members continue to embrace and celebrate this important premise through Fat Talk Free Week and our other body image initiatives."
While preparing for this year's Fat Talk Free Week, several chapters were motivated by Meghan Trainor's Billboard Top 100 Hit, "All About That Bass," and created a video inspired by the song. Tri Delta's Epsilon Zeta Chapter at Loyola Marymount University released their own video on social media. BodyImage3D Ambassador and Loyola Marymount member Alex Vogl says, "The song is fun, catchy and has lyrics that I feel good about singing along to. So often popular songs are objectifying women and sending messages that they need to look and act a certain way. However, the Meghan Trainor song pushes women to be and love who they are! Every time I hear it on the radio it serves as a reminder to stop the negative self talk because I am beautiful."
Tri Delta is also pleased to partner with Operation Beautiful™, for a third year in a row. Operation Beautiful inspires body image awareness and a fat talk free lifestyle by encouraging its participants to simply post anonymous positive notes in public places.
Wednesday, Oct. 22, 2014, will be Operation Beautiful Day during Fat Talk Free Week. Participants are encouraged to leave positive, encouraging affirmations in a public place to inspire others. For more information about Operation Beautiful visit http://www.OperationBeautiful.com.
For information on planning Fat Talk Free Week events or how to get involved, visit http://www.BodyImage3D.org. The official hashtag for Fat Talk Free Week is #EndFatTalk. Follow us on Twitter or on Facebook to join the conversation.
About Tri Delta
Founded in 1888, Tri Delta is a leader among social Greek organizations through its passion for progress and visionary thinking. Through partnerships with nationally recognized organizations like St. Jude Children's Research Hospital, award-winning publications like The Trident and innovative collegiate and alumnae initiatives, Tri Delta is committed to leveraging our timeless values to revitalize the sorority experience. For more information, please visit http://www.TriDelta.org or call (817) 633-8001.