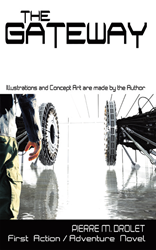 Knowledge and science can be powerful forces.
LOS ANGELES (PRWEB) October 03, 2014
If you could travel through time, what would you change? In the new science fiction novel "The Gateway," protagonist Matthew Schauberger must protect his family and alter the past by using technology for good.
Author and Emmy winner, Pierre M. Drolet's debut novel surrounds Matthew's journey, an MIT graduate and retired Marine, as he makes a shocking discovery at a technology company where he works, finding he must finish building a time machine that his father created decades before. As he stumbles across dark family secrets, faces a powerful business tycoon and travels into his fathers past, Matthew must save his father and save the machine from falling into the wrong hands.
"Knowledge and science can be powerful forces," said Drolet. "But human relationships are even more powerful. The ethical decisions we make have the power to change the world."
Drolet has worked in the visual effects field for more than 15 years on iconic science fiction television shows and movies. Inspired by his own experiences with advanced technologies, he takes readers on a journey through generations in a face-off between good and evil.
For more information about the book, visit http://www.pierre-drolet-sci-fi-museum.com.
"The Gateway,"
By: Pierre M. Drolet
ISBN: 978-1-4808-0710-5
Available at Amazon, Barnes & Noble and Archway Publishing
About the author
Pierre M. Drolet is an Emmy and VES award-winning Computer-Generated Imagery Visual Effects Artist. He has worked on iconic television shows and films, including several incarnations Star Trek, Battlestar Galactica, and Firefly.
# # #