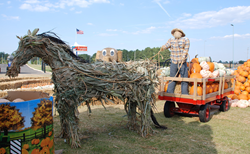 ...memorable fall break moments like these can only be made in Tennessee.
Nashville, Tenn. (PRWEB) October 07, 2014
School has been in session for a while now and everyone is tempted to enjoy the milder temperatures and harvest season. Tennessee's the best fall break destination with fright, family fall fun, and plenty of foliage spots to make any fall holiday memorable. From historical haunts to darling displays of pumpkins and scarecrows, memorable fall break moments like these can only be made in Tennessee.
Fun and Frights
East
The ultimate fun and educational fall destination is Adventure Ranch in Morristown, Tenn., approx. 25 minutes from Knoxville. Have a blast with two jumping pillows, a pumpkin patch, pony rides, petting zoo, and the Adventure Tower & Adventure Leap, hailed as a must do attraction. Find a way out of the huge Chic-Fil-A sponsored corn maze and roll like a rodent in the human-hamster wheels. Enjoy autumn at the farm 11 a.m. to 5 p.m. Saturdays and 1 p.m. to 5 p.m. Sundays through Nov. 2.
Nightmares become a reality as visitors descend more than 1,120 feet to Ruby Falls Haunted Cavern in Chattanooga, recently named Buzzfeed's No. 4 pick for their "19 Insane Haunted Houses You Should Experience Before You Die" list. Visitors are chased by mutants with only one way in and one way out; because, when visitors are that far underground, no one can hear them scream.
Middle
It's a tale that can only be made in Tennessee. The Bell Witch has been haunting Adams since the late summer of 1817 when John Bell and his family suddenly experienced sounds of knocking, chains being drug along the floorboards, and gulping and choking. To experience the sights (and sometimes sounds) of the haunting in Adams, attend the Bell Witch Fest where cave tours, Bell cabin tours, haunted hayrides and concessions are offered each weekend in October.
Life-size, funny, small, and historic folk art characters and traditional scarecrows will be in town for the Granville Scarecrow Walk through Oct. 31 in Granville. The scarecrows tell the story of the Jackson County pioneers, state history, and much more. Embark on a self-guided tour by picking up a Scarecrow Walk Guide at Sutton General Store, Granville Emporium or the Granville Gift Shop.
West
Amid the soulful music that spills out onto Beale Street, Memphis' ghosts linger among the living. Discover their haunting stories along the Memphis Walking Ghost Tour presented by Backbeat Tours. The city's apparitions may just pop up at stops like The Orpheum Theater, The Gayoso House, Grawmeyer's and its haunted piano, and one of the most haunted buildings in Memphis, Ernestine & Hazel's. The tours are two hours and cost $20 for adults and $13 for children 7-12 years-old.
Discovery Park of America in Union City is seeing orange through Oct. 31 as the Pumpkin Village comes to the Depot. Pumpkin sculptures of all kinds will be on display as well as cornstalk horses, hay bale creatures, and even a scarecrow village. Pumpkin foods and, of course, pumpkin lattes will be available for purchase to enhance this festive harvest event.
Fall Foliage
The leaves are beginning to change from their verdant green to bright yellows, oranges and reds. See autumnal splendor before the leaves make their graceful descent. The fall colors have already begun in the East as they travel from high elevation to low in Great Smoky Mountains National Park. Red maple, sourwood, and sumac are some of the first trees to show off their red leaves.
A drive through the 444-mile Natchez Trace Parkway is a great way to get those cozy fall feelings. Not only is is there fall color but the drive takes travelers through 10,000 years of North American history from Native Americans to future presidents. Make time to stop off at The Old Trace Drive which gives an overlook of a hardwood forest and Metal Ford which is a good, quick stop.
Take the leisurely route of seeing the slow change of color at Reelfoot Lake State Park where nature lovers can take a walk along any of the five trails. Experience the lake with a boat ride as the lake is a flooded forest, a result of a massive earthquake that caused the Mississippi River to flow backward, with standing trees and stumps. Don't be surprised if an eagle or white pelican is spotted as Reelfoot is known for its bird watching.
# # #
Explore more fall fun and frights at tnvacation.com. Join other Tennessee travelers by following "TNVacation" on Facebook, Twitter, Pinterest, Instagram and YouTube.