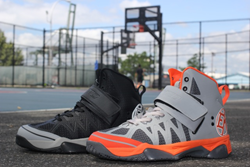 "This is our best design yet, and I can't wait to share it with our fans and basketball players around the world"
New York, NY (PRWEB) October 02, 2014
Committed to reducing ankle sprains on the basketball court, Ektio® today unveiled the next generation of its ankle-protecting shoes – the "Alexio." This newest model represents the next step forward in Ektio's revolutionary ankle support technology.
The technology behind Ektio was developed by a team of doctors led by New Jersey radiologist Doctor Barry Katz. Frustrated by the lack of progress in ankle sprain prevention by athletic sneaker manufacturers, these medical professionals decided to create the necessary design. The resulting shoe reduces the incidence of sprains among users by an incredible 99 percent.
"With our newest model, we have made improvements to the insole, midsole and outsole, where feedback suggested we tweak our design," Dr. Katz said while displaying the Alexio. "This is our best design yet, and I can't wait to share it with our fans and basketball players around the world."
Since the company was created in 2010, Ektio has grown into a brand with an international reputation. Former New York Knicks star John Starks quickly signed on, seeing the promise in the technology, as did NBA Hall of Famer Rick Barry. "If I were playing today, this is the only shoe I would wear." Rick explained when asked why he put his name behind the Ektio brand.
The Alexio protects an athlete's ankle by addressing the current faults in basketball shoe designs. When a player rolls their ankle in a traditional shoe, the shoe and the ankle invert. This force puts unnatural strain on the ligaments of the ankle, which causes the sprain. In contrast, the Alexio uses a patented series of straps, outriggers and an internal brace to support the ankle joint. The patented technology weds the ankle and shoe as a single unit, which will consequently prevent the rollover injury in the vast majority of instances. Ankle sprains are now optional; the choice is yours.
The Alexio retails for $139.95 and can be purchased at ektio.com, Amazon and Eastbay.
About Ektio
Founded in 2010 by Dr. Barry Katz, Ektio shoes use patented technology to prevent the most common injury in basketball; ankle sprains. The Ektio shoe is the only basketball shoe designed specifically to prevent an ankle sprain from occurring. Since its inception, Ektio has developed an international following. For more information about Ektio, visit http://www.ektio.com/