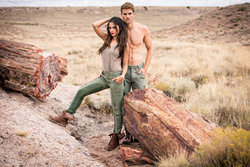 Scottsdale, Arizona (PRWEB) October 01, 2014
Local luxury denim manufacturer, Diego Milano, will be debuting their annual collection, 'Tribe of Nomads' during Phoenix Fashion Week. The brand is not only handcrafted locally, but uses unique processes and detailing yet to be seen in the denim industry.
Phoenix Fashion Week starts this Thursday, October 2nd 2014. All fashion shows will start promptly at 7:30pm. Diego Milano is scheduled to be the opening show. Tickets are on sale now and can be purchased online at http://phxfw2014.eventbrite.com/.
Fashion Week's Executive Director, Brian Hill said, "Phoenix Fashion Week's ultimate goal is to garner global exposure for Arizona's fashion industry." A perfect platform to highlight the company's travel inspired, free-spirited, southwestern influenced collection, entirely designed and handcrafted in the USA.
Entrepreneur, musician and artist Chris Kay, founded Diego Milano denim in 2012. The unique brand has impeccable aesthetics, a slight rock n' roll vibe and the passionate craftsmanship of a bygone era. With concept help from designer Linda Thithavong, Diego Milano jeans are almost as much of an art form as they are a denim brand.
The brand will no doubt draw a loyal following, a devoted 'Tribe of Nomads', if you will. The company's director Amelia Walsh said, "We are so excited to be launching this collection! The brand as a whole has been brought to a new level and it's great to debut it in our hometown's fashion week. Keeping all aspects of the line Arizona based and USA made."
 
Diego Milano
7302 E. Helm Dr. #1002
Scottsdale, AZ. 85260
info(at)DiegoMilano.com
Tel: 480-365-0335
To learn more about Diego Milano please visit http://www.diegomilano.com
To learn more about Phoenix Fashion Week please visit http://www.phoenixfashionweek.com.