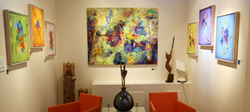 "The art exhibit at our office creates a positive and inspiring experience for our patients."... Franziska Ringpfeil, MD
Philadelphia, PA (PRWEB) October 02, 2014
In support of local artists Ringpfeil Advanced Dermatology hosts semi annual exhibits of outstanding local artists. The exhibits give the artist an opportunity to share his/her work and at the same time help the practice to create a whole new and uplifting patient experience.
The exhibit opening reception will take place on Friday, October 17 from 6PM to 8PM at the Ringpfeil Advanced Dermatology gallery, 569 W. Lancaster Avenue in Haverford PA. The event is open to the public (Please R.S.V.P to rad(at)ringpfeildermatology(dot)com)
Lovitz's current body of abstract paintings is a dance between painting, science, and nature, showcasing the basic geometric forms and colors that are the underpinnings of life. This opens up new connections between the exploration of art and science. The dance arises by taking these shapes and colors and looping them with her artistic language. She does this by creating many layers of paint, intuitively allowing one layer to give information to the next layer. She explains, "I as an artist have always tried to fathom the reality beyond appearances."
About Camp Discovery
Camp Discovery was founded in 1993 and offers a summer camp experience like no other. Every summer, the American Academy of Dermatology sponsors six weeks of camp in five locations where everyone can experience activities such as fishing, swimming, archery, horseback riding, nature trails, and just plain fun!
Under the expert care of dermatologists and nurses, Camp Discovery offers campers the opportunity to spend a week among other young people who have similar skin conditions. Many of the counselors have chronic skin conditions as well, and can provide support and advice to campers.
About Ringpfeil Advanced Dermatology
Ringpfeil Advanced Dermatology provides premium general dermatology, cosmetic dermatology, dermatological and laser surgery to the Philadelphia, Main Line, and Delaware Valley area. The practice was founded by Franziska Ringpfeil, MD, a board certified dermatologist with training in both the US and Germany as well as national and international recognition through lectures, peer-reviewed articles and many book chapters. She is assistant professor at Jefferson Medical College and the recipient of the prestigious Young Investigator Award by the American Academy of Dermatology. Her practice provides uncompromised quality of care through experience, technology, and focus on patient satisfaction.