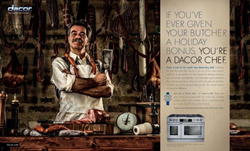 The new campaign taps into our customers' culinary passion in a way that no one else is doing. - Dacor CEO Chuck Huebner
Los Angeles (PRWEB) October 02, 2014
Dacor®, leading manufacturer of ultra-premium kitchen appliances, launches its new, national print ad campaign focused on empowering the home-chef's passion for cooking and entertaining. The "You're A Dacor Chef" consumer campaign features inspiring creative elements depicting the lengths to which a "Dacor Chef" will go in order to create the perfect meal. With its 50 year anniversary in 2015, the campaign also underscores Dacor's core history and commitment of creating innovations that truly matter to the cooking experience.
"The new campaign taps into our customers' culinary passion in a way that no one else is doing," notes Dacor CEO Chuck Huebner. "Each ad is strategically designed to visually captivate the reader, tell a story and create a connection between Dacor and the consumer, while reinforcing our commitment to innovation."
The headline of the inaugural ad reads, "If you've ever given your butcher a holiday bonus, you're a Dacor chef." Exuding sophistication and passion, the ads target Dacor's primary demographic: women, who are passionate about cooking, family gatherings and entertaining.
"Our Dacor customers are passionate about cooking and have strong opinions and ardent connections to the dishes they create," says Dacor President Steve Joseph. "Not only are the new ads engaging and emotional, but they offer a personality that is unseen in the appliance industry and that we know will be relatable to the people we call Dacor chefs."
Additionally, each ad is emblazoned with a Le Cordon Bleu® seal of excellence insigne, signifying that Dacor cooking appliances are recommended by the Master Chefs of Le Cordon Bleu. Dacor and the world-renowned Le Cordon Bleu forged a strategic partnership in June 2014. Both companies are seeking to ensure a revolutionary change in the culinary space through the merging of French cooking technique and American innovation. The partnership is designed to reinvigorate the kitchen with products, passion and progress that moves traditional cooking to modern day creations.
"As a professional chef, the tools we use are just as important as the ingredients that go into each dish," notes Executive Chef of Le Cordon Bleu Yannick Anton. "So whether I'm cooking at home or in a professional kitchen, performance is paramount, and the power and precision I experienced with Dacor was second to none."
The new campaign will be seen in premier national consumer publications such as House Beautiful, Traditional Home, Architectural Digest, Luxe Interiors + Design and more.
In addition to print, the campaign is promoted online at dacor.com/dacorchef and across Dacor social media platforms where consumers can enter to win a Le Cordon Bleu® cooking class. Entrants are asked to write a short story or post a photo of a family memory, an inspiration or a moment in time when they discovered a passion for cooking—and they'll be automatically entered to win a cooking session at one of the Los Angeles campuses of the Le Cordon Bleu College of Culinary Arts. One lucky winner and a guest will be selected to receive round-trip airfare to Los Angeles; 3-day, 2-night accommodations at a luxurious hotel; and a Le Cordon Bleu cooking session.
About Dacor
Founded in 1965, Dacor is a manufacturer of ultra-premium kitchen appliances. Designed and built in California, Dacor's cooking appliances integrate function and technology to create high-performing, intuitive products that reflect the lifestyle and needs of the passionate cook. For nearly 50 years, Dacor has been responsible for many of the innovations that have improved the way people cook in the modern kitchen. Dacor is family-owned and embraces the legacy, heritage and expertise of a third generation to lead the company into a new age of cooking innovation. Dacor's innovative appliances have been recognized with many prestigious awards including a Digital Trends Best of Consumer Electronics Show (CES) Home award for its Discovery iQ™ Dual-Fuel Range, Kitchen & Bath Industry Show (KBIS) Best of Show and Best of Kitchen Gold for its Discovery iQ™ 30" Wall Oven and Better Homes & Gardens Kitchen + Bath Ideas 30 Most Innovative Products award for its Discovery WineStation®. For more information about Dacor and its products, visit dacor.com.